Webinar
Watch Goldman Sachs, Nacha, and Modern Treasury discuss the future of embedded payments.Watch the webinar.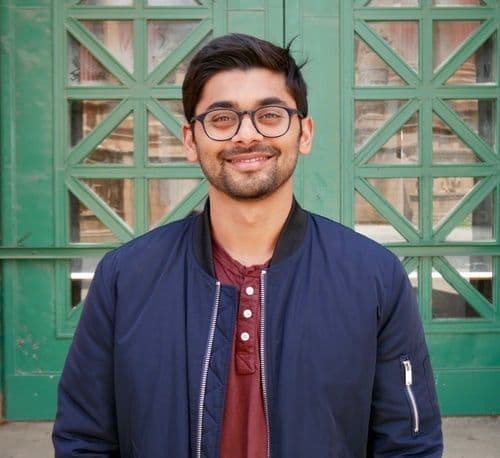 We're excited to announce that our Compliance product now supports Decision Feedback and Insights to further streamline how compliance teams manage and monitor their daily operations.
With Decision Feedback, compliance teams can use the Modern Treasury dashboard to examine decisions involving onboarding new users or transactions if they suspect a false positive or false negative occurred, and promptly take remedial action if necessary.
The new Compliance Insights feature tracks key metrics regarding the performance of your compliance program, like total decisions handled, approval rates, open cases, and more to provide full visibility into the health and performance of your compliance program.
Decision Feedback
The quality of your decisions ultimately determines how robust your compliance program is. While solutions like our Compliance product are designed to streamline the majority of user onboarding and transaction approval decisions, there will always be false positives or false negatives that need to be fixed retroactively.
There are two ways a user or transaction is approved or denied today:
Automated: Compliance automatically approves any user or transaction with a low or medium risk score and automatically denies any user or transaction with a very high risk score. Modern Treasury customers can define custom rules to calculate these scores based on their requirements.
Manual: Users or transactions with high risk scores require manual approval through the Case Management tool in the Modern Treasury web app.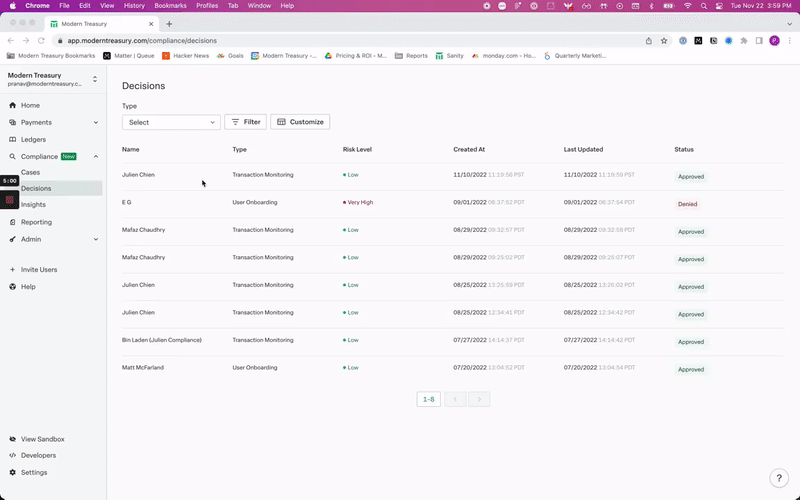 With Decision Feedback, compliance teams can now address incorrect decisions in the dashboard. Reversing a false positive will automatically result in the transaction being processed or the user being onboarded. Reversing a false negative will create a record of the reversal and allow your team to take remedial action, like blocklisting and off-boarding the user or reversing the transaction.
Modern Treasury also automatically reports false negatives on ACH debits with a selection of return codes that are typical of fraudulent transactions, reducing the amount of time your team needs to spend handling fraudulent ACH transactions. This is just one of the benefits of Modern Treasury being a platform for compliance, fraud, and payments.
Decision feedback also improves the quality of the Compliance product's automated decisions. It's used for adding features and retraining the machine learning models that score users and transactions. Additionally, this data can be used to tweak rules and improve both automation and accuracy.
Compliance Insights
Compliance Insights provides a 360-degree view into how your program is performing. It provides reporting tools that make it easy to track key metrics like approval rates, open cases, and decision accuracy. It also lets you analyze deviations from long-term trends to proactively investigate potential fraud.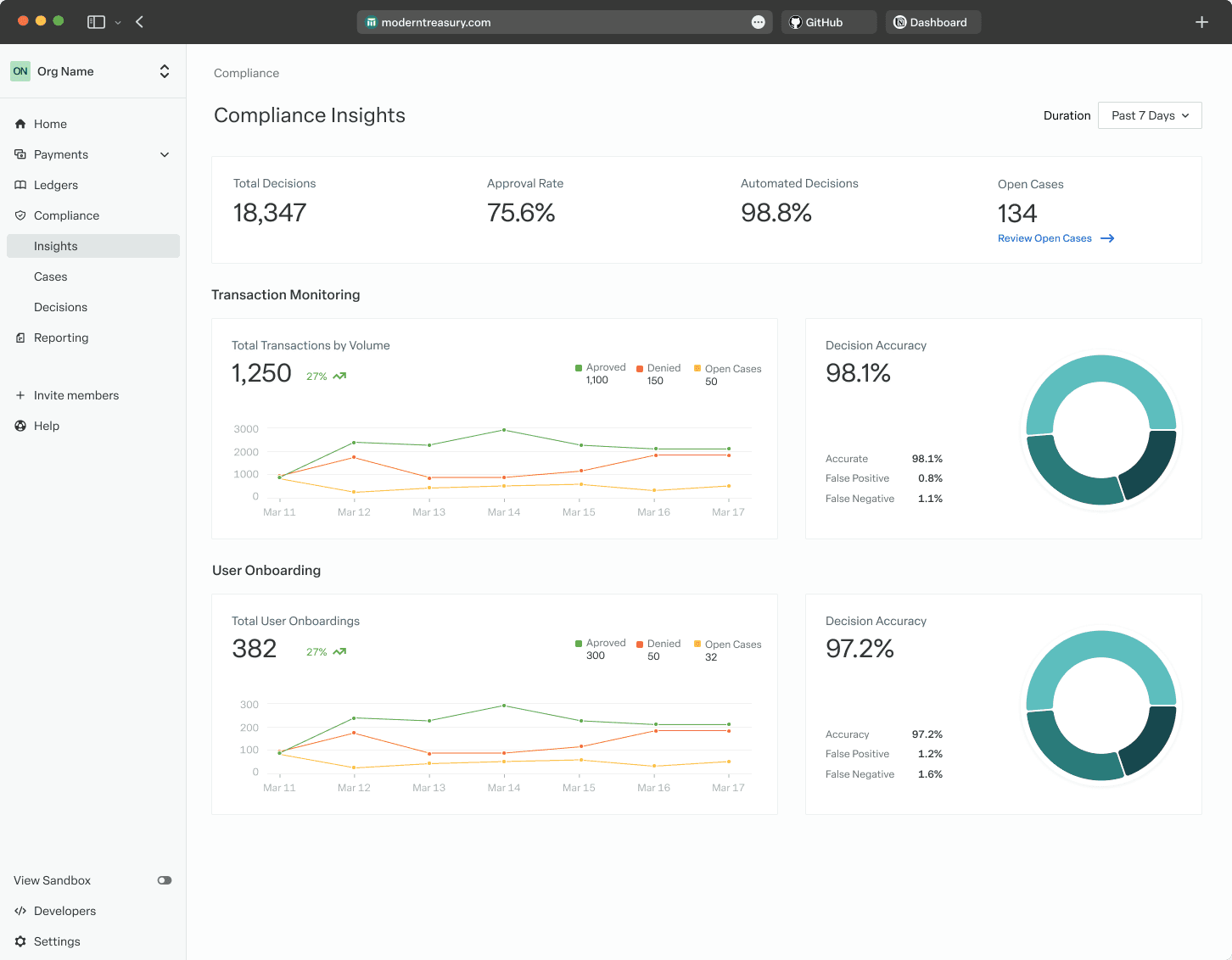 Get Started
Compliance helps you get to market faster and scale your use case with KYC/KYB checks and transaction monitoring enabled on all payments from day one. To learn more about what Compliance can do for your product, please reach out.