Webinar
Join us for a live discussion on recent bank failures and the importance of resilient payment systems.Learn more
Implement our RESTful API with just a few lines of code, refine it in a complete test environment, then scale it to millions of transactions.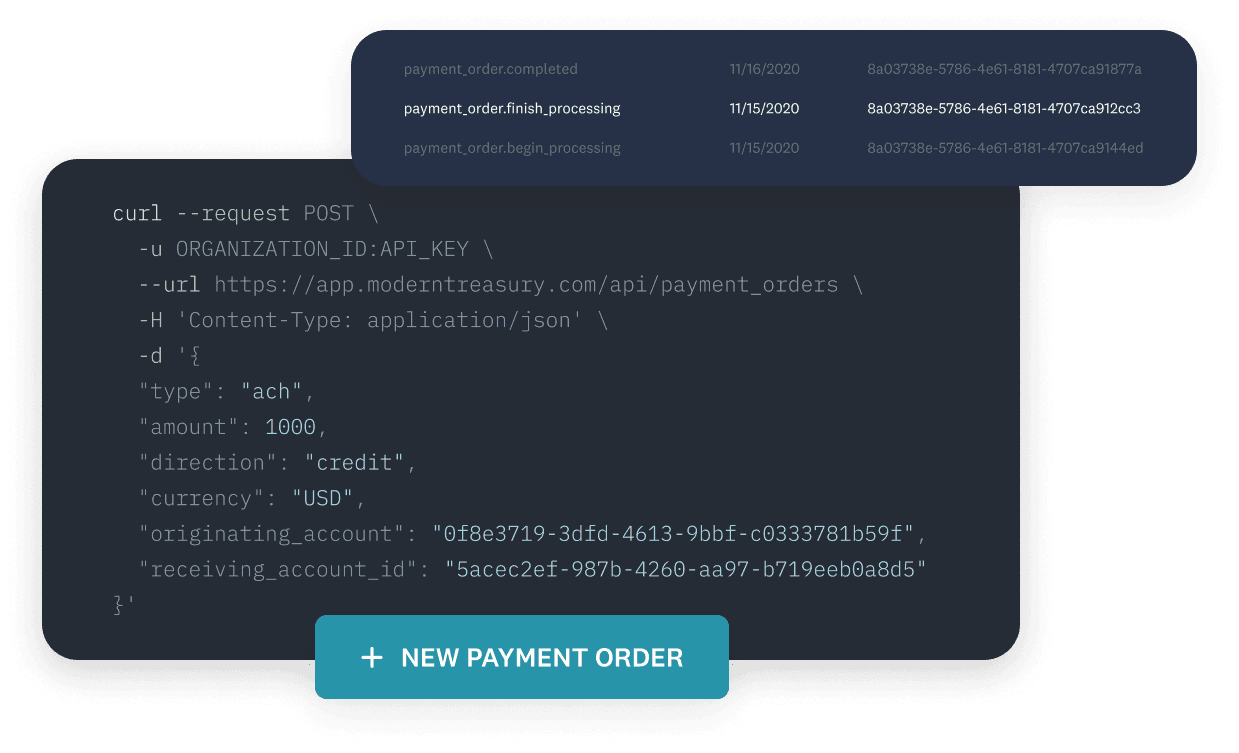 The platform for platform payments
Flexible
Payments are complex, build your own custom flows. Easily create payment flows to match your company's needs.
Scalable
We do the counting, you code what counts. Don't worry about NACHA files, FTP, batch timings, or building to a bank core.
Practical
Teams need internal tools, get them for free. We support team-based workflows with a unified app and API.
Secure
We operate at the highest level of payments security.
Frequently Asked Questions
Are transactions limited by dollar amount?
There are no dollar limits to any single transaction. Our platform operates in conjunction with your bank, so we can help you send and receive money up to any limits established with your bank partner.
Does Modern Treasury intermediate funds?
No, Modern Treasury moves money on behalf of customers from their own bank accounts. We do not sit in the flow of funds at any point in the payment life cycle.
How does it work on the backend?
Modern Treasury is a software layer that sits between you and your corporate bank. We integrate into legacy, complex bank core infrastructure on a customer's behalf, and then you can use our simple API.
What if I switch banks or bank accounts?
You payment flows are easily portable between bank accounts or banks. Once the new bank or bank account is connected and live, all you need to do is change the account id attribute of each API call.
Is there a charge for API calls?
There are no limits to API calls or transaction counts.
How many counterparties can we pay or charge?
Counterparty count is unlimited.
How can I keep my system up to date with the events that happen in Modern Treasury?
Modern Treasury supports sending webhooks to your systems when events occur on our platform. You can set up multiple endpoints where you receive events and customize which events you receive. Webhooks will also be retried on an exponential backoff schedule if delivery fails. Additionally, our users can poll our API for the latest status of objects.