New
Explore the potential of embedded payments and learn what it takes to build products that move money effectively.Register for the webinar
One Platform for Bank
 Payments Globally
Send, receive, and reconcile payments over any payment method, including ACH, wires, and RTP.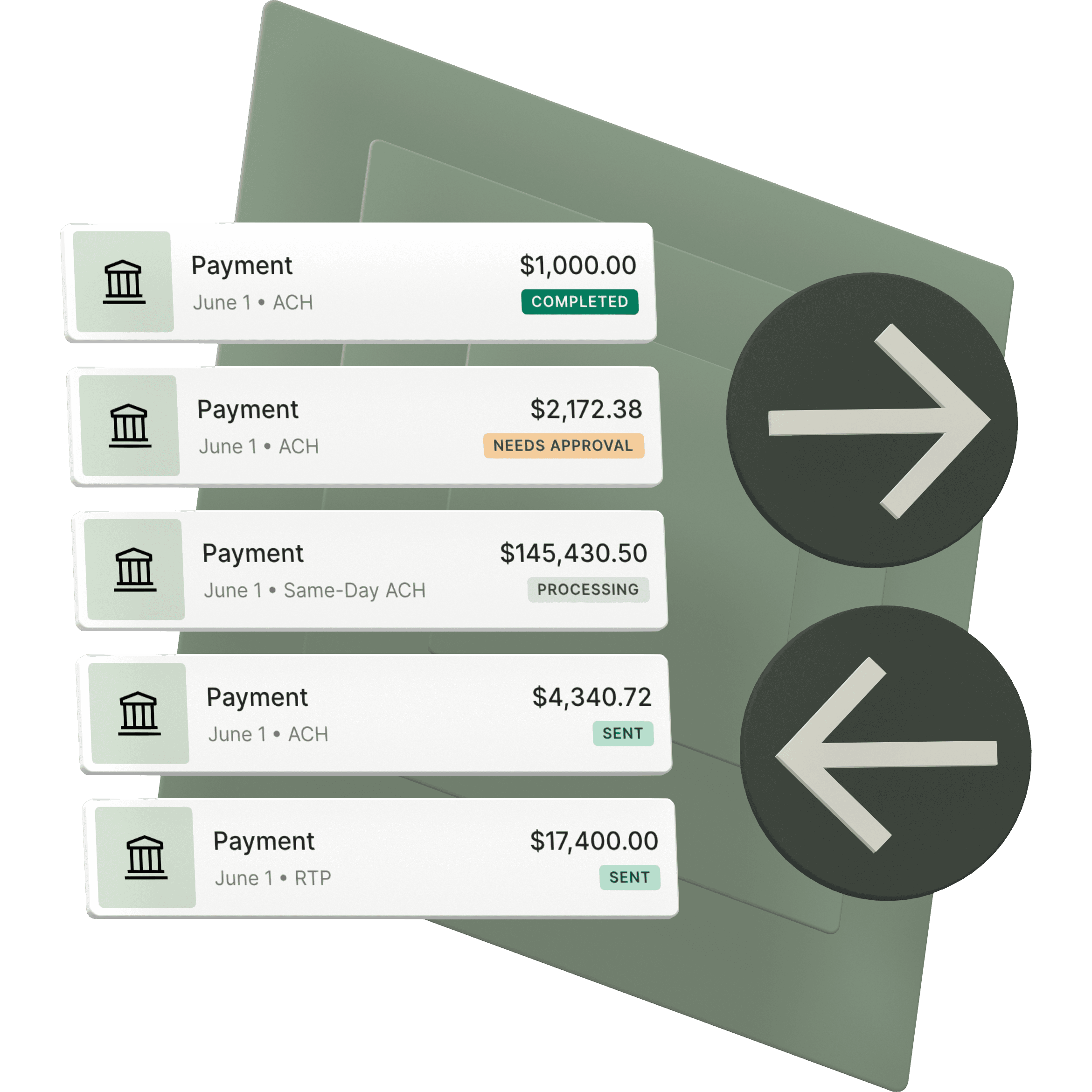 Payments
Automate payments from initiation to reconciliation
Custom payment flows
Create automated flows tailored to your product using flexible, powerful REST APIs.
Full visibility into returns
Track returned payments in real-time and automatically link them to the original payment.
Easy one-time payments
Initiate payments in the web app using payment order templates, scheduling, and CSV uploads.
Live payment status updates
Receive payment status updates with web-hooks and email notifications.
Features
A source of truth for your money movement
Automation, control, and transparency unified in a single platform.
Unlock real-time finance with reconciliation
Our reconciliation engine automates cash reconciliation across banks, processors, and internal business objects to save you time and keep your operations running smoothly at scale.
Centralize your financial data
Our platform integrations unify and normalize data across banks and payment processors to provide a single pane of glass for your entire financial operation.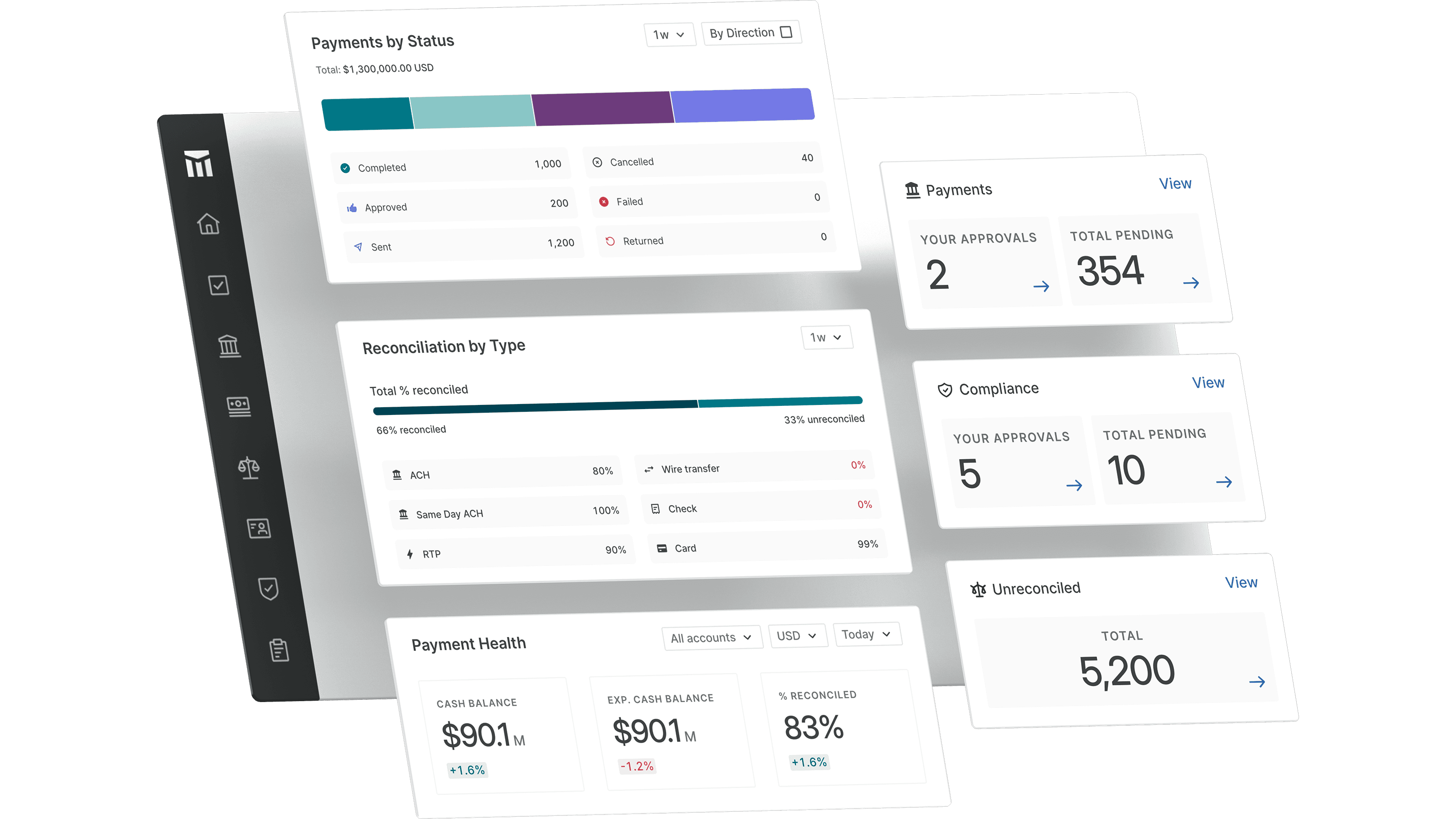 Integrations so you can move faster
Get started faster with secure connections that help you operate more efficiently.
Explore integrations

→
How It Works
A payments platform to streamline your business
Automate money movement at scale. Simplify workflows with centralized and connected financial data.
Use our 20+ direct bank integrations to connect your bank account to Modern Treasury.
Send and receive payments via ACH, wire, RTP, check, and more. Build automated payment flows using the API or initiate one-off payments by hand in the web dashboard.
Set up approval rules and user permissions. Trigger webhooks to track payments across the full lifecycle: from payment creation to approval, processing, reconciliation, and more.
Streamline your payment workflow from end-to-end by automating onboarding, payment checkout, reconciliation, and month-end accounting.
"Our payment operations pretty much run on autopilot today. The only manual process is someone on the finance team logging into the app once a day to see if there have been any returns."

Lukas Wagner · CFO at Pipe
Features
Automation and controls that make real-time finance a reality
Accelerate your company's payments operations with unprecedented efficiency, control, and visibility.
Counterparty verification and onboarding
Simplify onboarding and validation with powerful, custom workflows.
Whitelabeled forms
Securely collect bank account details, taxpayer IDs, and other information.
Authentication options
Validate bank account details with Plaid, micro-deposits, and pre-notes.
NSF protection
Eliminate ACH returns with NSF checks before debiting a counterparty.
Counterparty management
Manage and store sensitive counterparty information in a secure platform.
A Single Source of Truth
APIs and dashboards to move money faster and more transparently
Our payments platform and ledger database unify data from internal systems and payment providers to simplify your operations in a single source of truth.
Try Modern Treasury and experience the future of money movement.
Connect with our team of experts to learn how 
Modern Treasury can move your business forward.
Subscribe to Journal updates
Discover product features and get primers on the payments industry.
Subscribe

→
---
---