New
Explore the potential of embedded payments and learn what it takes to build products that move money effectively.Register for the webinar
The Operating System for​ the New Era of Payments
Modern Treasury's suite of APIs move finance and product teams forward with automatic reconciliation, faster payments, and real-time financial data.
Automatic reconciliation made easy
Learn how to speed up your month-end close process with automatic reconciliation in our new guide.
Learn more

→
A Single Source of Truth
APIs and dashboards to move money faster and more transparently
Our payments platform and ledger database unify data from internal systems and payment providers to simplify your operations in a single source of truth.
Use Cases
Built to power complex payment operations
If you need to move or track a lot of money automatically, Modern Treasury can help.
Launch new payments products and workflows with our APIs.
Accelerate payouts. Drive transparency throughout your marketplace.
Automate payments and unlock real-time visibility across your business.
Drive efficiency and streamline payment operations at scale.
Payments Platform
A unified payments platform built for scale
Create in-product payment experiences over any bank rail, including RTP and FedNow. Get full control and visibility across banks with a centralized dashboard and modern APIs.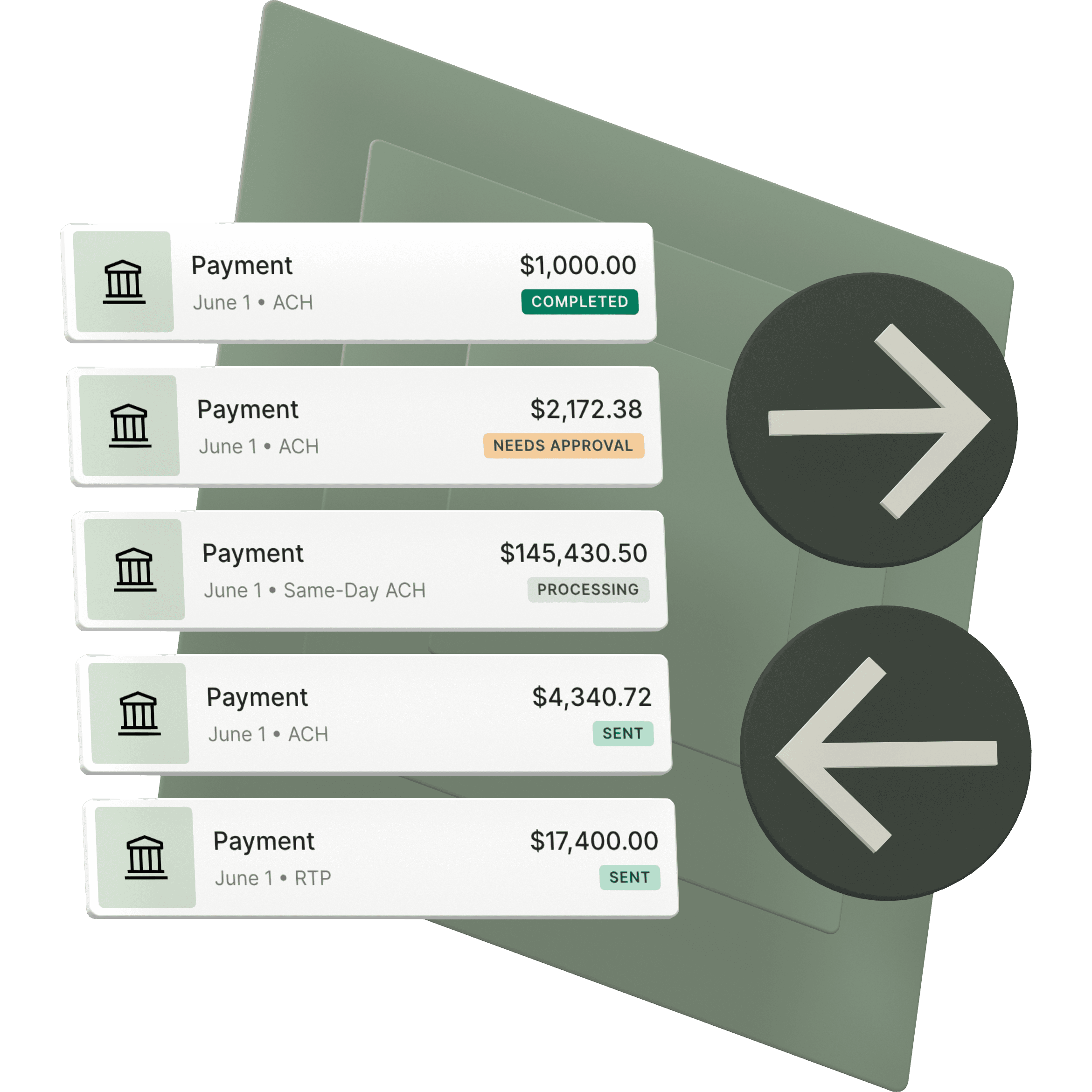 Ledger Database
The database for money movement
Scale high-volume payment systems with a central, flexible source of truth. Log transactions from production and surface balances in your application in real-time.
Build safer, more accurate payment systems with an append-only database.
Automatically ingest data from payment processors, card issuers, and more.
Streamline your architecture by centralizing and normalizing your transaction data.
Process billions of a transactions on a ledger fast enough to handle card authorization flows.
Features
Solutions for the entire payment workflow
Custom flows, payments intelligence, built-in compliance modules: Modern Treasury solves the entire payment workflow.
Track and confirm your payments in real-time
Automate reconciliation across banks, processors, and business objects to save time and run your operations smoothly at scale.
Accelerate your workflows
Automate financial operations. Close your books faster.
Track payments in real-time
Monitor transactions. Catch anomalies to reduce risk.
Activate payments data
Unlock real-time financial data across your platform.
Unlock insights
Gather insights from rich, queryable payments data.
Insights
Dive deeper into the new era of payments
Navigate the world of payments with insights from industry experts. Written for payment, product, and finance leaders everywhere.
Try Modern Treasury and experience the future of money movement.
Connect with our team of experts to learn how
Modern Treasury can move your business forward.
Subscribe to Journal updates
Discover product features and get primers on the payments industry.
Subscribe

→
---
---