Webinar
Join us for a live discussion on recent bank failures and the importance of resilient payment systems.Learn more
The Federal Deposit Insurance Commission (FDIC) was created to protect deposit holders in the event of a bank failure. In this article we explain how FDIC receiverships work.
What is FDIC Receivership?
When a bank is deemed insolvent, illiquid, or the Department of Treasury sees the need to intervene in the event of a banking crisis, the FDIC can take control of an institution and become what is called an "appointed receiver." In that capacity, it takes the following responsibilities:
Ensuring that depositors protected by FDIC deposit insurance can access their money—up to $250,000 per account.
Taking control of bank operations, including freezing payments and removing management. The bank often becomes what's called a "bridge bank," which operates under an FDIC-appointed board  until new management is put in place. Under a bridge bank, the FDIC makes funds available to resume operations normally. This is done to prevent further effect on other financial institutions.
Initiating an asset sale to cover losses. Asset sales can take the form of auctions, negotiated sales to larger banks, or government packages.
Broadly speaking, when a bank enters receivership, the government is intervening to assure the orderly resolution of payment transfers—and to ensure that funds are available to deposit holders. While FDIC receivership might sound negative, it is typically a positive sign—the FDIC has noticed a problem and is working to resolve it with as few adverse effects as possible.
With receiverships, the FDIC plays a vital role in the wind down of a bank. While the United States had 563 bank failures from 2000 to 2023, most deposit holders have been made whole, recovering the entirety of their funds—even those with balances above the federally-mandated $250,000 threshold for FDIC insurance. Often, this takes the form of additional funds made available by the US Treasury in loan or direct disbursement programs.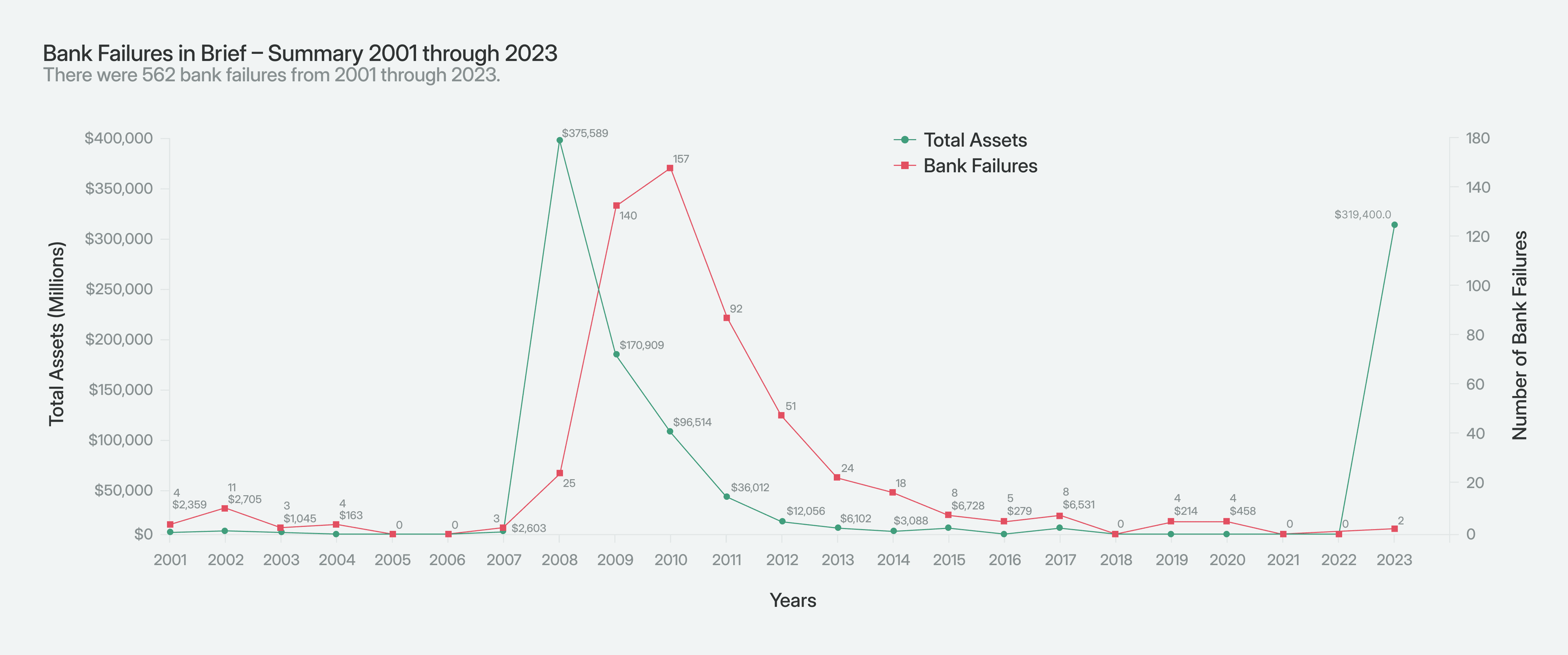 The United States had 563 bank failures from 2000 to 2023.
For companies looking to add redundancy to their bank infrastructure, Modern Treasury can help by providing access to multiple banks at once. Learn more here and reach out if we can be helpful.
Bank Accounts
Bank accounts are monetary repositories maintained by a financial institution