New
Explore the potential of embedded payments and learn what it takes to build products that move money effectively.Register for the webinar
Customers
Linqto Unlocks Same-Day Liquidity with Modern Treasury
Linqto makes the process of investing in private equities accessible, affordable, and liquid. The company uses Modern Treasury to power real-time buys and sells on the Linqto platform, as well as investor onboarding and fund management. With Modern Treasury, Linqto unlocks speed and liquidity, allowing the business to scale its one-of-a-kind investment marketplace faster.
To innovate and scale in the private equities market, Linqto needed a way for investors to fund accounts, as well as buy and sell on the platform, much faster. But manual payment operations were slowing things down and building a solution in-house didn't make sense.
Linqto was able to launch quickly and unlock both speed and liquidity for investors with Modern Treasury, moving upwards of $39M per month through our platform and managing over 6K counterparties.
Using Modern Treasury has allowed Linqto to redirect an average of 15 hours each week from managing wire payments to higher-value tasks.
Linqto is expanding global investor access to private equities. Through the Linqto platform, accredited investors can identify, evaluate, and make liquid investments in the world's leading unicorns and private companies. Linqto has set its offering apart by using payment operations to achieve same-day transactions and liquidity for investors (at a rate also referred to as T 0 or T-Zero).
Manual orders and operational barriers to growth
Launched in 2020, one of Linqto's primary goals was to introduce speed to the private equities market. Private markets are notoriously slow, opaque, and costly to enter—to acquire ownership in companies that are not publicly traded has historically been a 60-90 day process, in part because of restricted shares and required authorizations.
For context, public markets also remain far from instant, operating with two-day settlement. The Linqto team hoped to beat out both timeframes.
As VP of Product Management Joshua Peters shares, "From a user-experience perspective, ultimately, we're aiming for real-time transactions—and that's every kind of transaction on our platform."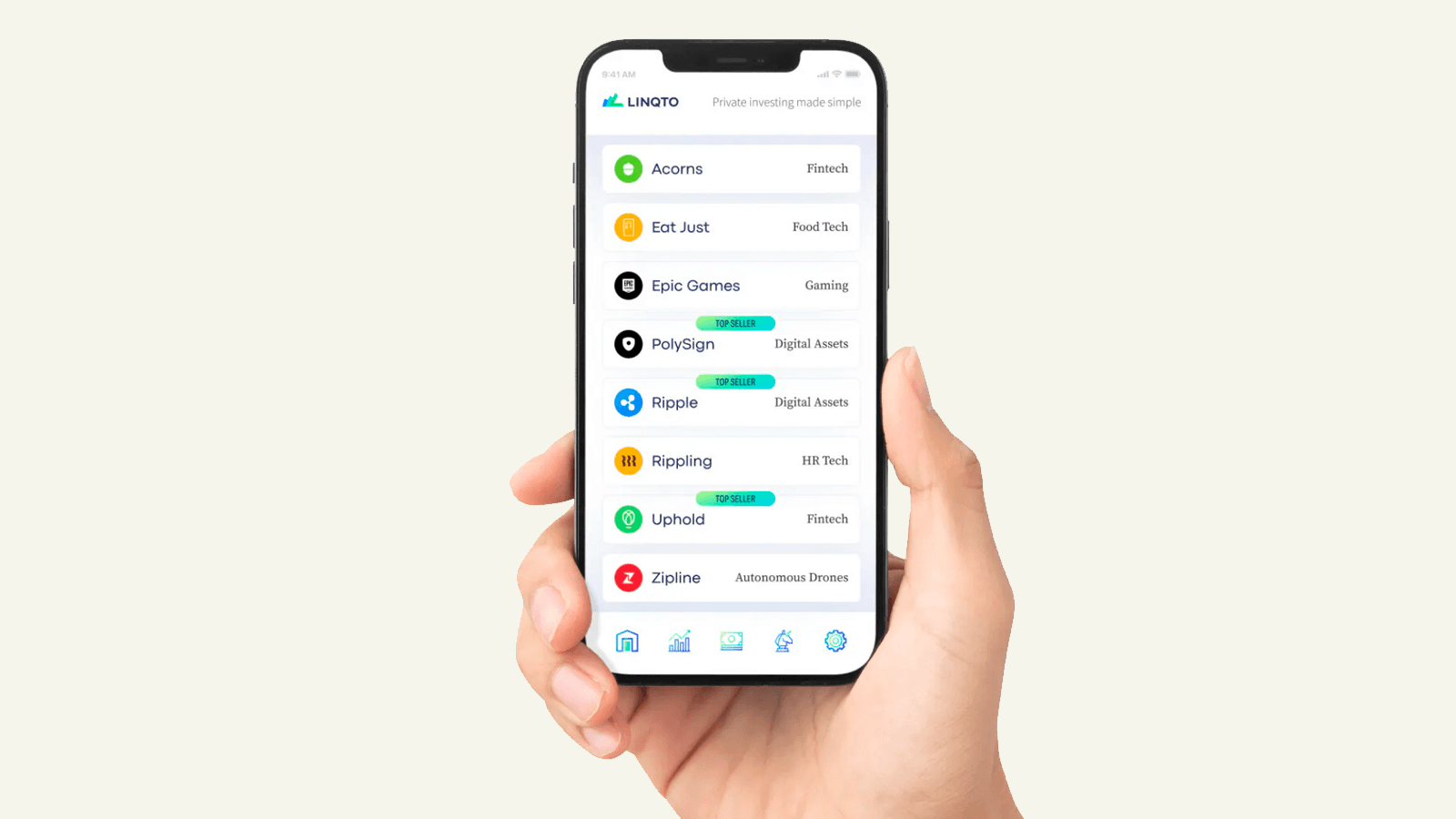 Because Linqto offered a lower barrier to entry for potential investors than competitors, the team also needed infrastructure built for payment speed and volume. Internal challenges included manual workflows and difficulty managing counterparties.
As an example, at the outset, potential Linqto investors would place an order and then have five days to send a wire payment.
"This was a big problem for us," says Peters. "Oftentimes people simply did not pay. Investors realized there was no risk to place an order, which ties up inventory, and decide later if they actually wanted to make the investment. Since they had five days to send funds, savvy investors also realized they could wait to see if the price would change before sending a payment."
When investors did pay, the Linqto team manually reconciled wires, often confronting attribution challenges and user errors. Given the importance of getting wires right, the CEO initially managed this process before delegating it to Linqto's Controller.
Linqto needed a virtual account system with automations to free up valuable resources and speed up transactions—and the team's research into solutions led them to Modern Treasury.
Quick, future-proof implementation
Linqto decided to move forward with Modern Treasury and cash accounts at their partner bank simultaneously, after briefly considering a custom integration.
"We always have the choice to build or buy but there was a feeling that Modern Treasury was well-built and integrating it would be better than building from the ground up."

David Paul, CFO at Linqto
"Especially since our engineers are very busy on a whole set of features and improvements—they were not looking for things to do," says Paul.
Timeliness was vital—as was resiliency.
As Peters shares, "Working with Modern Treasury allowed us to get up to speed faster than a direct integration with our bank. We also didn't necessarily want to be locked into one bank—with an intermediary like Modern Treasury, we have the flexibility to add or change banks with one integration."
From the start, working with both Modern Treasury and their partner bank was advantageous for Linqto.
"We had meetings with our bank partner and Modern Treasury at the same time. It made the process easier for us that the Modern Treasury team was able to speak the language—the team knows how to talk to the banks and integrate with the banks."

Casey Shurtliff, Software Architect at Linqto
"That was one benefit of this relationship," says Shurtliff.
Another benefit for Linqto was Modern Treasury's ease-of-use.
"Once we set the API up, I don't think we've had to do any real management. We're just able to make the calls, and the API works fairly seamlessly. We are able to get the events back and send them out without any issues," says Shurtliff.
Upgrading user experience with same-day liquidity
Linqto's new cash accounts ushered in a new mindset and enabled an important milestone: T-zero (or real-time) liquidity. Investors could now quickly pre-fund accounts, and then buy or sell holdings via Linqto within the same day. The marketplace in this way became not only faster but simpler.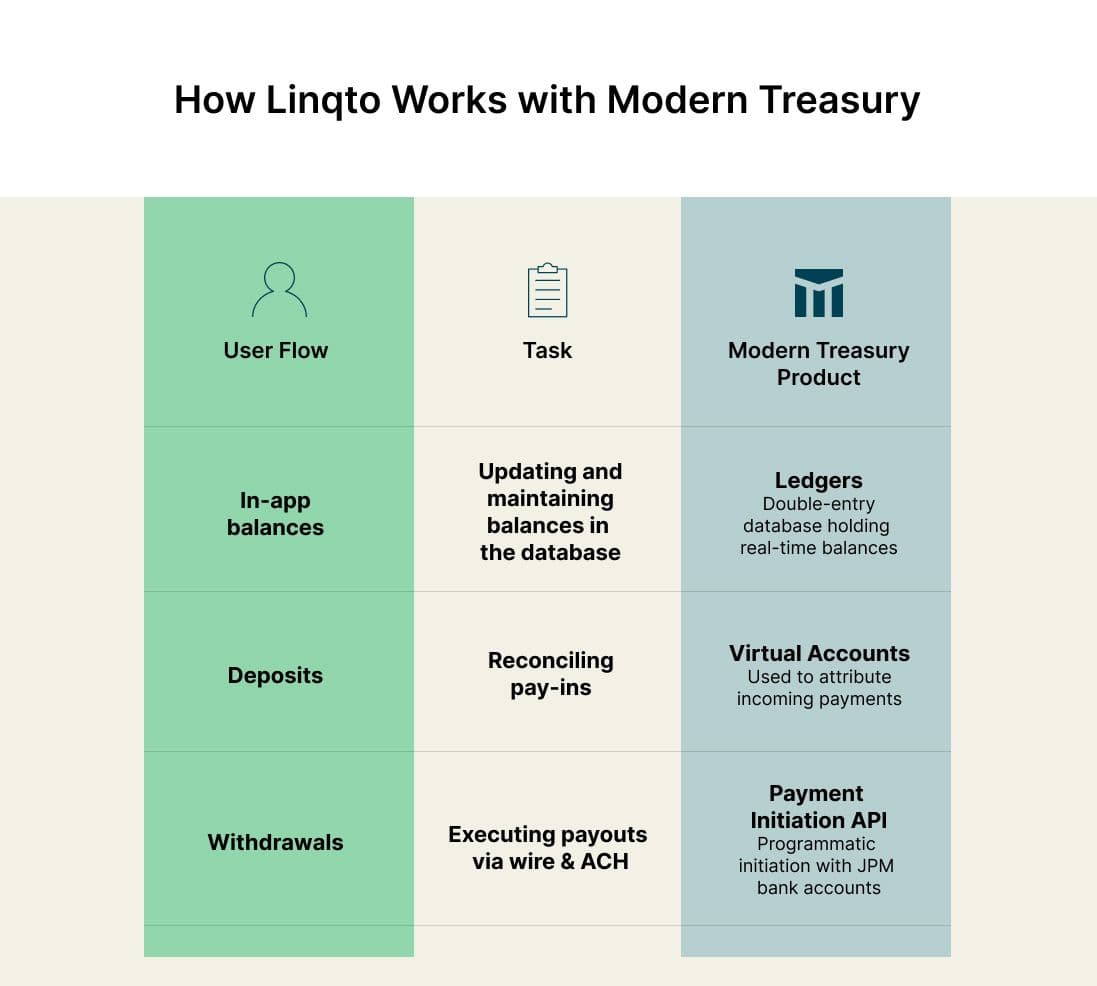 As Paul shares, "Creating cash accounts allowed us to shift our customer's thinking—hey, you know, this is just like any other kind of marketplace. T-Zero is something we don't even have in the public markets right now. It's really quite a significant shift and a big market differentiator."
Linqto's partnership with Modern Treasury helped give investors real-time account balances. Funds are now available for orders in the same day, putting Linqto in a class of its own.
As Paul shares, "Linqto has a slightly different business model than what exists elsewhere in the market."
"We're not just a regular broker—we're trying to create a new marketplace and that's a bigger strategic win for the company. All these building blocks around payments have been absolutely critical."

David Paul, CFO at Linqto
Unlocking growth for Linqto with liquidity
With Modern Treasury powering fund flows to and from the company's bank accounts, Linqto was able to round out three core objectives.
"With Modern Treasury, we achieved the final pillar of our initial strategy which was to provide accessibility, affordability, and liquidity to private equity. Liquidity is what we were lacking—cash accounts allowed us to achieve it."

Joshua Peters, VP of Product Management at Linqto
"The main benefits of Modern Treasury were that it allowed us to get to T-Zero buys and, more importantly, T-Zero sell orders," says Peters.
Peters emphasizes the importance of sell orders because at launch, Linqto investors bought to hold—until IPO, acquisition, or bankruptcy. Lack of liquidity was a significant pain point for users. But before cash accounts, Linqto had nowhere to park proceeds for investors—investors sent payments but didn't share credentials or have individual accounts with Linqto.
Now, users can sell their shares instantly with proceeds deposited into their cash account, ready to be used towards their next investment or withdrawn to their bank account.
"Liquidity has been a huge boon for our business. People are buying more because they know that they can get liquidity if needed," says Peters.
Currently, Linqto is moving an average of $39M per month via Modern Treasury. Not only are investors able to be more strategic with their funds—Linqto also benefits from additional liquidity as investors cash out.
Driving efficiency with improved attribution
In addition to speed, Modern Treasury helped Linqto regain lost operational time.
Before the team opened cash accounts, Linqto's Controller Adam Warren was manually reconciling incoming wires and the process was cumbersome.
As Warren recalls, "Some days there would be 40-60 wires coming in. I'd get through the morning batch of 30 wires and I'd come back an hour or two later to another 10 or 15. The investor had been instructed to put their name and order ID in the wire details, but not everyone did that or they had a template saved with a previous order number. Or they'd send funds from an entity that wasn't set up in our system and they wouldn't put any notes. And sometimes I'd just get this random wire with no idea who it belonged to."
Warren would have to research wires or connect with customer service, a process consuming 15-20 minutes per challenging wire and sometimes longer.
"If we had released a really popular offering, I'd spend most of the day matching wires. It was really hard to anticipate at the beginning," Warren says.
Senior Accountant Ifeanyi Nnoruka took over the role and was managing wires when Linqto adopted Modern Treasury. Whereas he previously spent 4-6 hours per day completing transactions, he now spends two hours maximum—a reduction of 60% and savings of 15 hours per week.
"The time these processes take me has been cut down very dramatically by Modern Treasury. I am able to use my time very efficiently and have more time to spend on other tasks."

Ifeanyi Nnoruka, Senior Accountant at Linqto
A centralized system, strong support, and solid focus
The team also appreciates Modern Treasury's centralized dashboard.
"Having everything stored in Modern Treasury makes data more simple to navigate. It's very easy for me to use, and across the team it makes data easier to pull," Nnoruka says.
Shurtliff concurs. "From an engineering perspective, Modern Treasury made things easier because we have a single place we can go through," he says.
In addition to the tech, working with the Modern Treasury team has been a very positive experience for Linqto.
"The Modern Treasury team has been a huge help for us. You've been great at giving us advice on what our options are, what might work best for our use case, helping to answer any questions that we have about how things work."

Joshua Peters, VP of Product Management at Linqto
In terms of next steps, Linqto is exploring new rails like RTP and FedNow, and the possibility of accepting new payment types.
Still, the team sees plenty of opportunity for optimizing their current product and cementing Linqto's role as a market leader.
"We want to stay focused and build a really exceptional product for the private equity market," says Peters.
Explore more case studies
Subscribe to Journal updates
Discover product features and get primers on the payments industry.
Subscribe

→
---
---