Webinar
Watch Goldman Sachs, Nacha, and Modern Treasury discuss the future of embedded payments.Watch the webinar.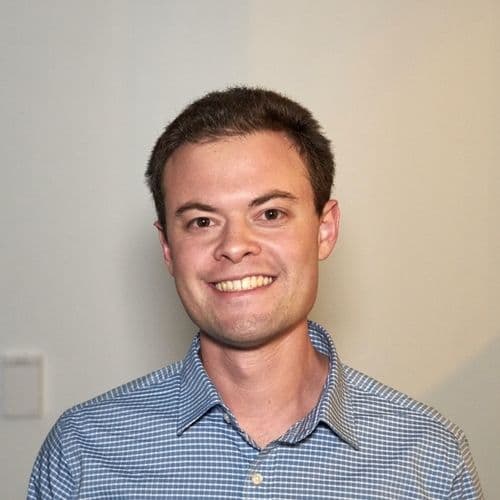 We're excited to share some of the features that shipped this month at Modern Treasury. In addition to enabling the pausing of webhook endpoints that we shared earlier this month, we have improvements across our platform that benefit the entire payment process.
Virtual Accounts at Increase
We've added support for creating virtual accounts at Increase. Creating a virtual account will generate a unique account and routing number within a physical bank account. This enables you to attribute outbound and inbound transactions to a user. This functionality requires having an Increase bank account linked to Modern Treasury. To learn more about virtual accounts, check out our developer docs here.
Organization Switcher Capability
We have improved the design of our navigation bar with the launch of our organization switcher. Clicking your organization name will bring up a new dropdown panel. This allows you the option of alternating between all the organizations you belong to.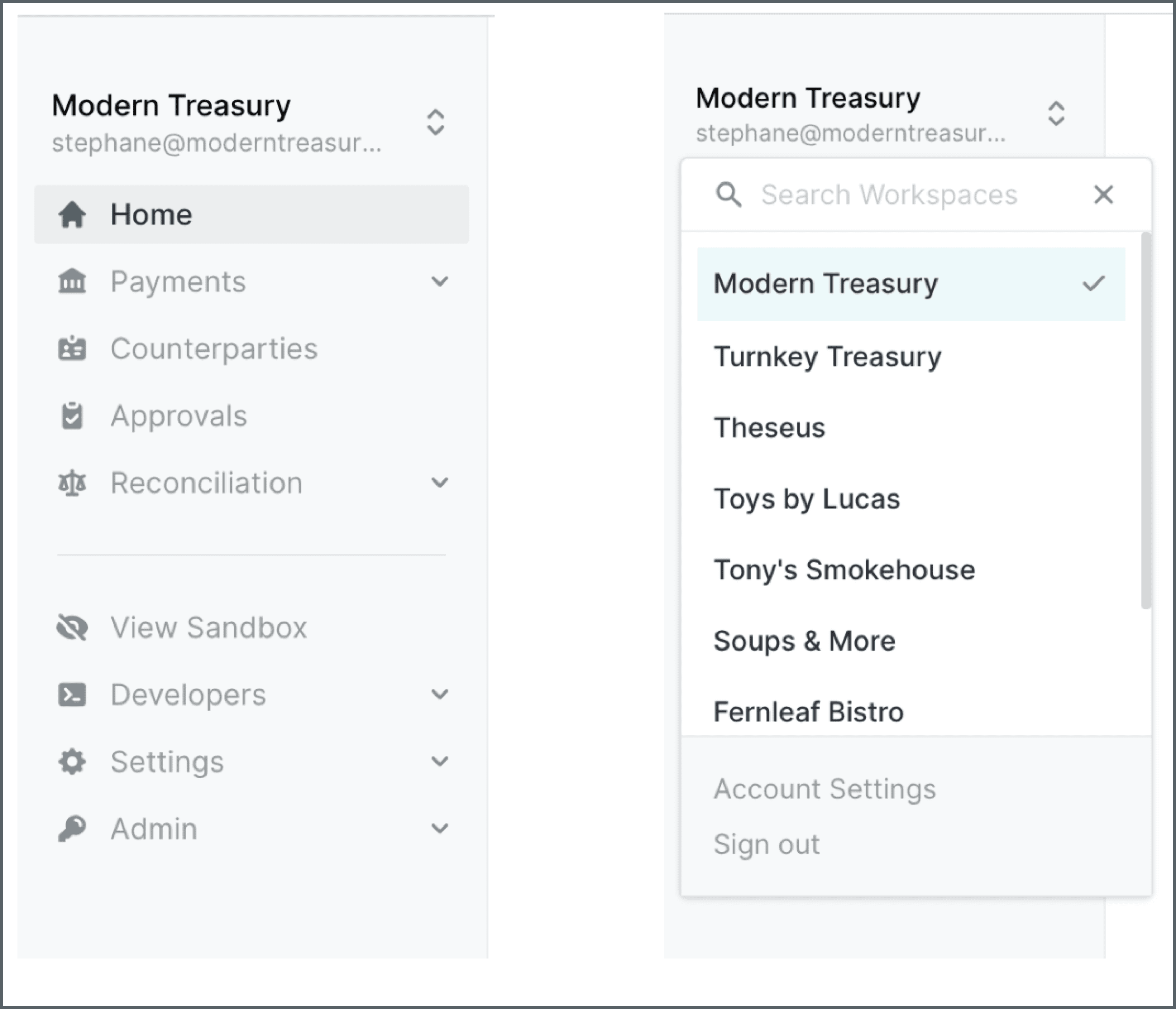 This will be useful for any business that manages several organizations at once. We've included a search bar which filters down the list of organizations, and moved the "Sign Out" and "Account Settings" links to the organization switcher pop-up.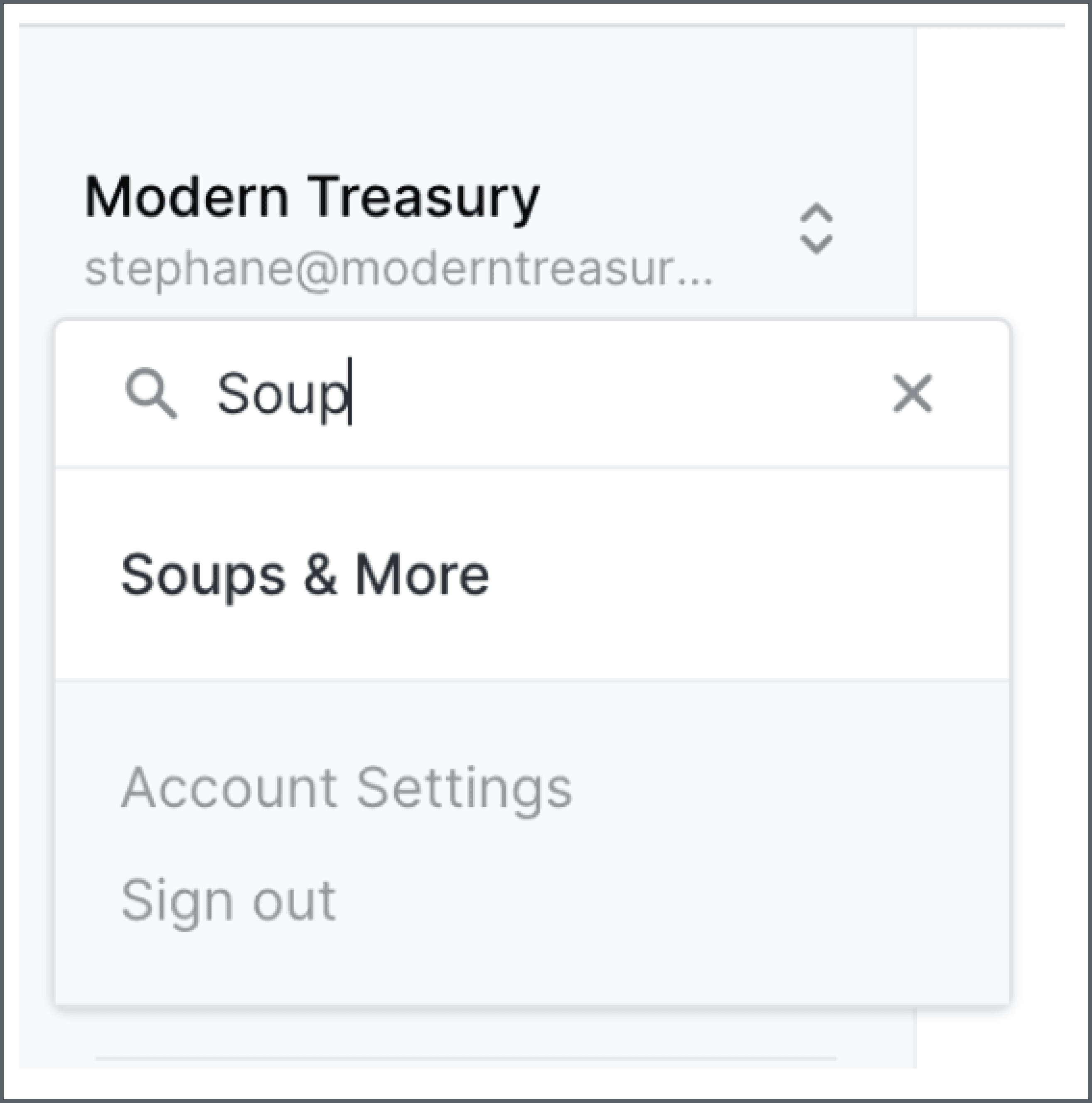 An important thing to note is that only one organization can be selected as active. That means you cannot work across more than one organization at a time.‍
New Billing Page
Our new billing page will allow you to track all the financial aspects of your Modern Treasury account.
You can view the price of your subscription and your current payment details. Here you can also change your credit card if required.

The billing section allows you to change who gets notified for billing emails. We allow you to add any email, but at least one contact must be a Modern Treasury user.

Hovering on the contact row will bring up a menu where you can remove the billing contact.

The invoice section shows your past invoices with modern treasury. You can download the invoice pdf by hovering over the invoice row.

If your team wants to check out any of these new dashboard features or needs help with any part of your payment operations, sign up for a sandbox, or reach out to us.