new
A new era of payments is here. Download the State of Payment Operations 2023 report now.Learn more
Reconciliation Reimagined for Modern Business
Modern Treasury's reconciliation engine ingests, enhances, and reconciles your payments data, accelerating your operations and synchronizing your business.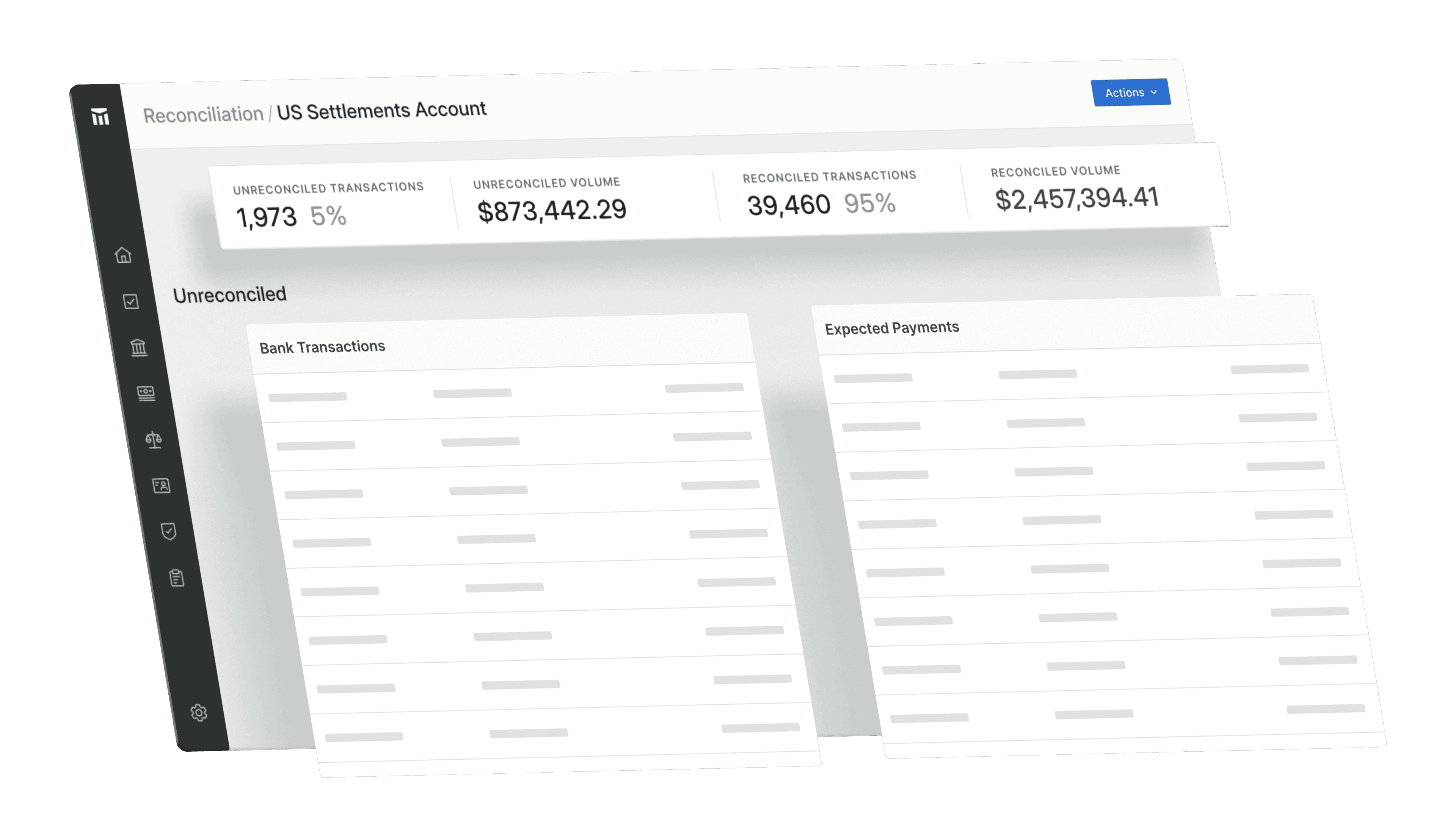 Reconciliation
Goodbye batch based delays. Hello seamless, continuous finance.
Import
Ingest payments data from banks, processors, and internal business systems via managed data connections.
Reconcile
Match transactions one-to-one, or many-to-one using pre-built or custom reconciliation rules.
Monitor
Track cash activity and manage exceptions within a unified financial dashboard.
Sync
Export reconciled data to ERPs, data warehouses, and spreadsheets. Sync instantly to your product via API webhooks.
"Modern Treasury's automatic reconciliation has been instrumental in paying our partners faster and with more confidence. It's given us a great handle on our payment flows."

Guy Gal • CEO at Side
Finance Teams
Powerful new ways to get more done
Work efficiently and create financial transparency by centralizing your company's financial data and automating busy work.
Reconcile payments automatically using the reconciliation engine and close your books faster and more accurately.
Track payments and reduce financial exposure
Monitor transactions in real-time. Catch anomalies to reduce financial risk.
Better understand your financial operations with enhanced observability and centralized data.
Product Teams
Get answers faster and exceed customer expectations
Identify growth opportunities and deliver a better customer experience by taking full advantage of your company's financial data.
Deliver financial data at the speed customers expect and make it accessible across your product, systems, and teams.
Remove product bottlenecks by automating complex financial operations.
Generate new product insights
Gather intelligence from rich, queryable payments data to guide product decisions.
Features
The end-to-end solution for any reconciliation problem
Automate your reconciliation workflows with continuous data to drive speed, transparency, and intelligence throughout your business.
Access continuous, real time data
Managed connections with banks, processors, and business databases access your data continuously for real time reconciliation.
Ingest from multiple payment sources
Import data across any payment method and processing partner, including Goldman Sachs, Citi, and Stripe.
No code required
Share free-flowing business data with Modern Treasury for reconciliation via seamless no-code data ingestion tools.
Close your books in half the time.
Try Modern Treasury and experience the future of payments. Connect with our team of experts to learn more.
Subscribe to Journal updates
Discover product features and get primers on the payments industry.
Subscribe

→
---
---