Webinar
Watch Goldman Sachs, Nacha, and Modern Treasury discuss the future of embedded payments.Watch the webinar.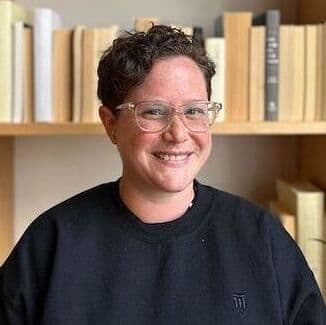 There's been a lot written about FedNow recently—across the industry and at Modern Treasury—as the financial world preps for a new US payment rail. But now that we're more than a week into 2023, here's what to expect from FedNow when it officially launches in the next few months.
Preparations for FedNow's Launch are Already Underway
Modern Treasury CEO and Co-Founder, Dimitri Dadiomov noted recently that FedNow is the "first new payment rail in the United States since the introduction of the Automated Clearing House (ACH) in the early 1970s." Considering this marks the largest upgrade to our nationalized payment infrastructure in decades, detailed preparations have been underway for years.
An ongoing pilot program has been in place for FedNow since January of 2021. The pilot program includes over 110 banks and payment processors in support of the development of FedNow functionality. In August and September, the pilot program began technical testing—including roll outs to non-pilot financial institutions and payment processors who are ready to serve as early adopters of the service.
Prior to the pilot program and early adopter outreach, the Federal Reserve implemented steering committees focused on different aspects of FedNow. Our Co-Founder and CTO, Sam Aarons, sat on one of these committees, focused on reconciliation, last year.
The New Era of Payments in the US
The significance of the imminent roll out lies in its potential. If successful, FedNow could drastically shift how money moves in the US—the net effects of which are yet to be calculated, though we can hypothesize some results:
Three Beneficiaries of Faster Payments
Consumers: Services like Zelle and Venmo, which facilitate peer-to-peer instant transfers, have dramatically shifted how consumers pay each other. FedNow can also facilitate how consumers get paid by businesses and the government. We've talked about various use cases that eliminate the wait times for a bi-monthly paycheck or insurance payout or government assistance, which could unlock consumer potential to do more with their money.
Businesses: FedNow will move money instantly between depository institutions at a nominal fee, and will service over 10,000 financial institutions through the FedLine® network. While it will also facilitate consumer payments, the impact on business payments can be game-changing. When businesses can send paychecks, bill payments, and other funds transfers affordably, quickly, and 24/7/365—especially if they have a software solution that automatically reconciles the payment data—they'll be able to have real-time visibility into cash flow, enabling better, faster business decisions.
Financial institutions: There are also benefits for the financial institutions. Ken Montgomery, First Vice President at the Federal Reserve Bank of Boston and FedNow Service program executive, has said: "The benefits of instant payments are increasingly important to consumers and businesses, and the ability to provide this service will be critical for financial institutions to remain competitive…[In 2023], financial institutions will be able to use the FedNow Service as a springboard to provide innovative solutions to their customers."
Two Instant Payment Rails
In the US, there is a huge volume of transactions—both in number of transactions and in dollar amount moved—that happen across the ACH network and wire transfers:
In 2021, Nacha reported that the ACH network handled more than 29 billion transactions, valued at nearly $73 trillion. These numbers were up 8.7%, or $2.3 billion, from 2020, making 2021 the ninth consecutive year that ACH transaction value grew by at least $1 trillion.
FedWire®, which handles the majority of wire transfers within the US, moved just over $991 Trillion via wires in 2021, up 18% from 2020.
When live, FedNow, with its broad footprint, and  its competitive pricing, it could take a huge chunk out of transaction volume for both ACH and wires. But let's also not forget that there is another instant payment rail: RTP.
As of yet, RTP has not gained wide-spread adoption. However, if FedNow can establish itself as a reliable instant payment rail, it stands to reason that this could also boost traction of other instant rails that offer the same availability and speed. US Bank research finds that 38% of companies already use RTP and 56% will by 2024.
If both instant rails end up operating at potential capacity, it would drastically shift the US payments landscape. Indeed, we've seen this narrative of a national faster payments system usurping volumes happen already in other countries. Time will tell how it will affect the US.
One Major Question of Adoption
This brings us to the proverbial elephant in the room: the question of adoption. How do we know that FedNow will "take" when we've been talking about faster payments for decades?
While we've previously hypothesized why we think there's reason to be optimistic—the fact that there's increased coverage, a lower transaction fee, and government backing—and ways we can facilitate adoption, we know that it can take a lot more than that to shift the mindsets and habits of people. However, again, if we can look to other countries as models, and educate the populace about faster payments benefits, we will be on the right path.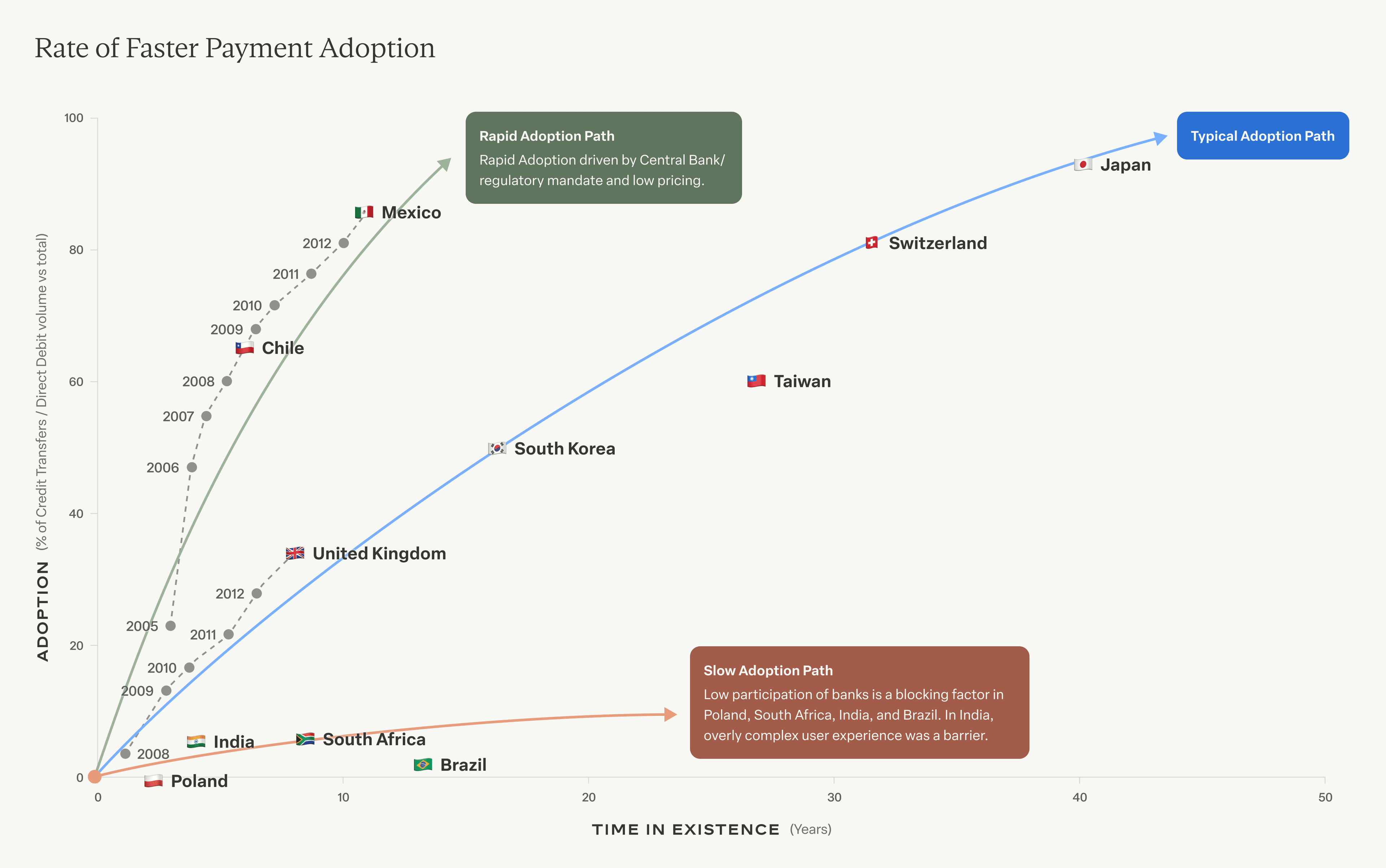 Rate of faster payment adoption across countries
Ensure Your Business Is Ready For FedNow
The Federal Reserve has said to expect FedNow to launch sometime between May and July of this year.
Modern Treasury is a payment operations platform designed to help businesses send, receive, and reconcile payments quickly on a single platform. Our easy-to-use APIs will allow businesses to access FedNow—plus other faster payment options—once it's live. As the world of money movement evolves, we want to make sure your business is ready to take advantage of everything that faster payment options like FedNow can offer, reach out to us to find out how we can help.