Webinar
Watch Goldman Sachs, Nacha, and Modern Treasury discuss the future of embedded payments.Watch the webinar.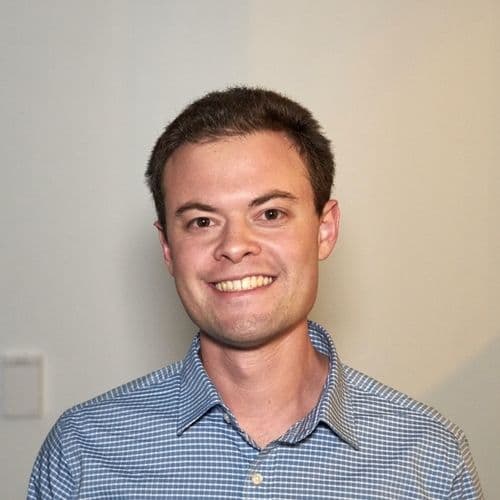 In November and December, we shipped features including scheduled reports, security notifications, international counterparty invites, and more. We also offered early access to four new features.
Platform Updates
We released the following eleven platform updates.
Scheduled Reports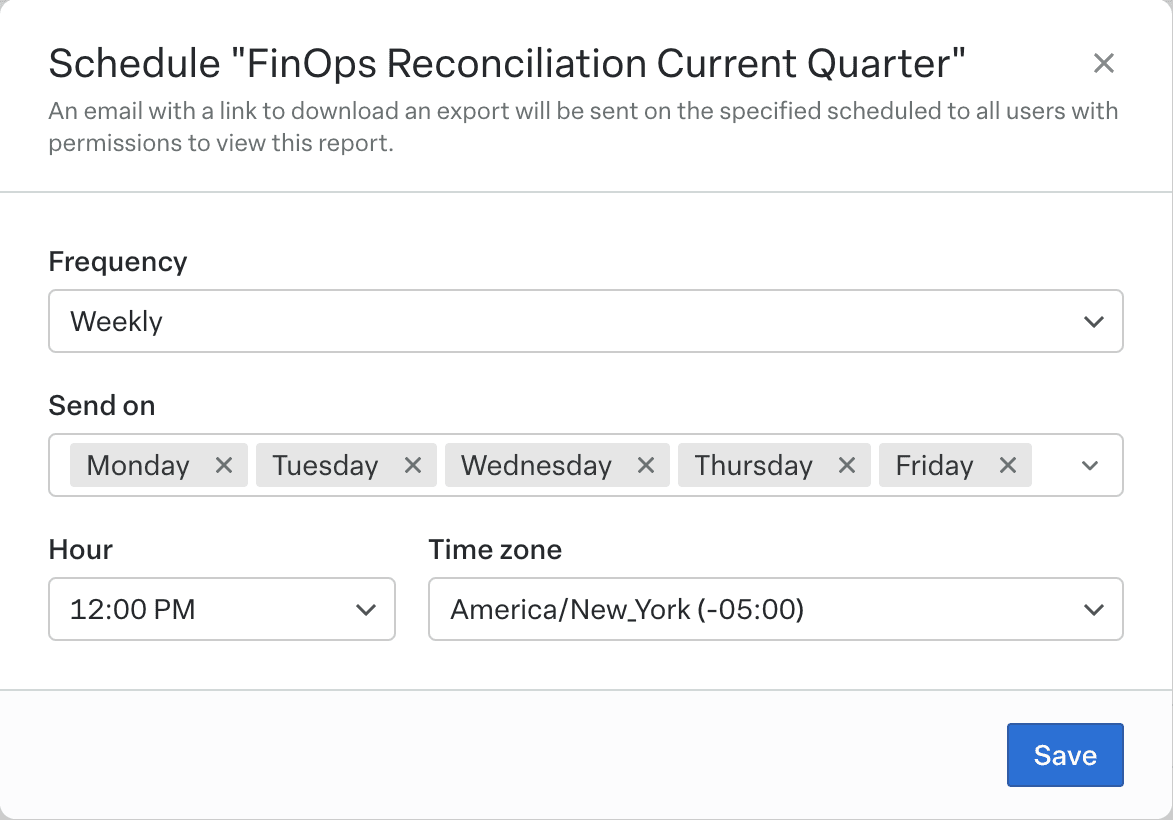 We've added Scheduled Reports to enable you to easily generate and receive your favorite reports. Previously, to download a report, users needed to manually set up the report in the Modern Treasury web application dashboard and export the data. Now, reports can be delivered to you automatically. Generate reports, specify report recipients, and configure custom report cadences within the dashboard. Try it now by going to any report, and selecting the "Schedule" option in the top right menu.
Security Notifications
We've added security notifications to heighten security and observability across the platform. Now, administrators and permissioned org managers can receive email notifications for all organizational changes, including added / removed users, and updates to roles and permissions.
These notifications are designed to help organization owners stay on top of account updates, and reduce unwanted or unexpected account changes. Notifications are enabled by default, but can be disabled in your user profile.
Permissions and Access Control Reporting
In the Modern Treasury web application, you can now download a report outlining access and permissions for each user, role, and internal account.
These reports can be used to provide a detailed picture of who has access to which permissions and accounts. They're designed to help you audit your permissions or identify gaps in your organization's access controls.
Asynchronous Bulk Imports
We have introduced asynchronous bulk imports to help you quickly upload and monitor the progress of all imports. Users can automatically start using these features today—simply upload a file and you will be notified by email and via the status on screen when it is processed.
International Counterparty Invites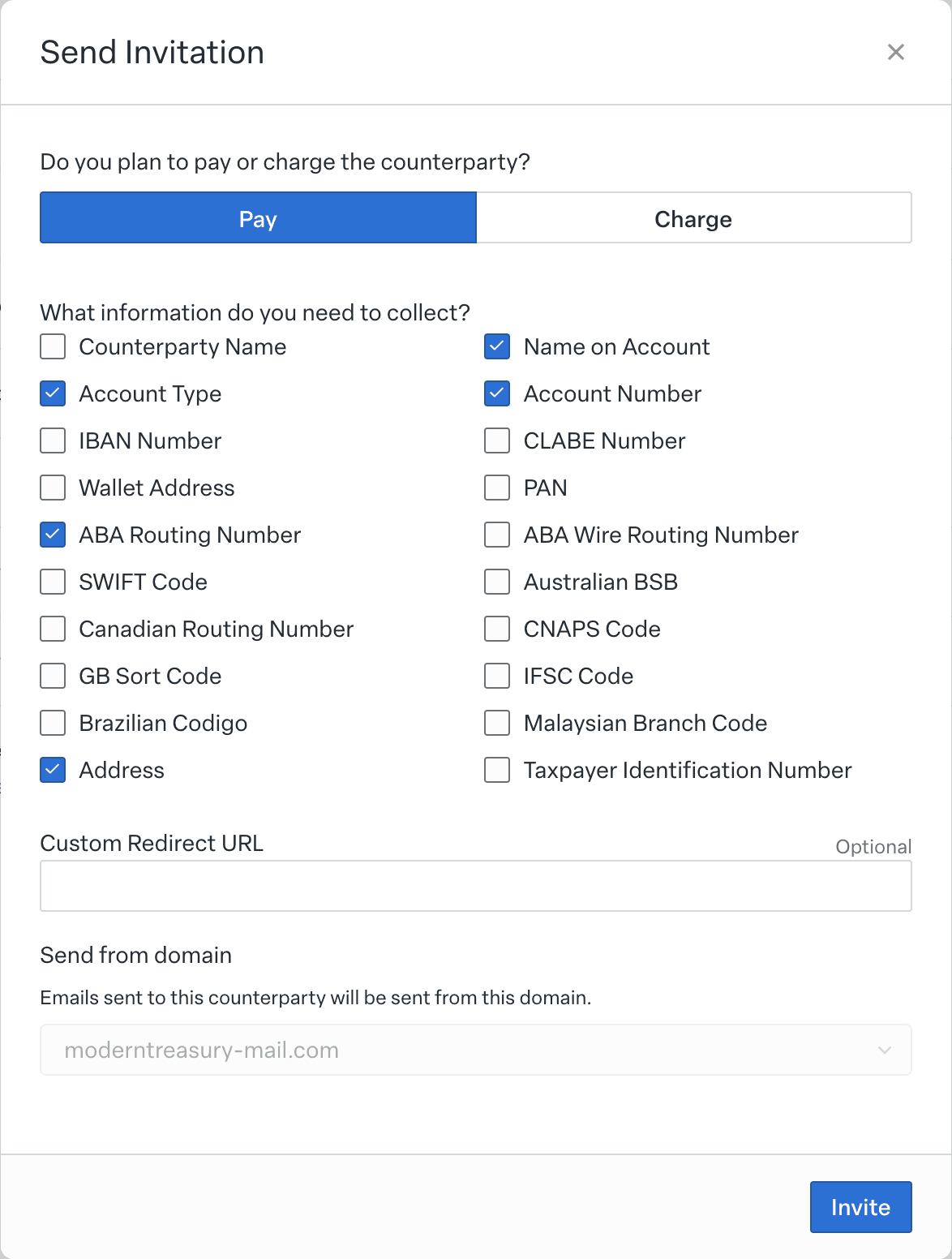 We have added additional account and routing number fields to the counterparty invite. This will enable you to select from a broader list of possible field combinations, supporting more countries and payment rails.
Print and Mail Checks Programmatically at Silicon Valley Bank
If you are an SVB client, you can now print and mail checks programmatically from Demand Deposit Accounts (DDAs) and For Benefit Of (FBO) accounts. Modern Treasury also provides multiple Payment Statuses during the lifecycle of a check payment. To use this feature, simply create a Payment Order of Type=Check.
Ledger Account Categories
You can now create and view balances for Ledger Account Categories within the Modern Treasury web app. Ledger Account Categories allow you to model nested accounts, such as multiple sub accounts for a single customer. You can find more information here.
Ledger Transaction Versions
You can now view past Ledger Transaction Versions in the UI in order to audit the lifecycle of transactions. Each transaction version shows the transaction's prior entries as well as metadata. Read our blog post here for more information.
Optimization to Lock Versions
To better support high-throughput ledgering, some ledger entries will be batched starting January 9th, 2023. When writing certain ledger entries, the initial response may have a null value for ledger_account_lock_version.
Insights Dashboard
We've released a new insights dashboard to provide valuable insight into how your compliance and fraud system is performing. In this dashboard, you can view statistics about volume, approval rates, accuracy, and more.
Blocklist / Allowlist
Minimize fraud and false positives with a blocklist / allowlist. To prevent user onboardings and transactions with risky counterparties, add entries to the blocklist based on a variety of characteristics (e.g., email address, phone number, tax ID, IP address, etc.). Add entries to the allowlist so transactions are automatically approved.
Early Access Features
If you would like to explore any Early Access features, please contact us at support@moderntreasury.com.
Custom Email Domains (Early Access)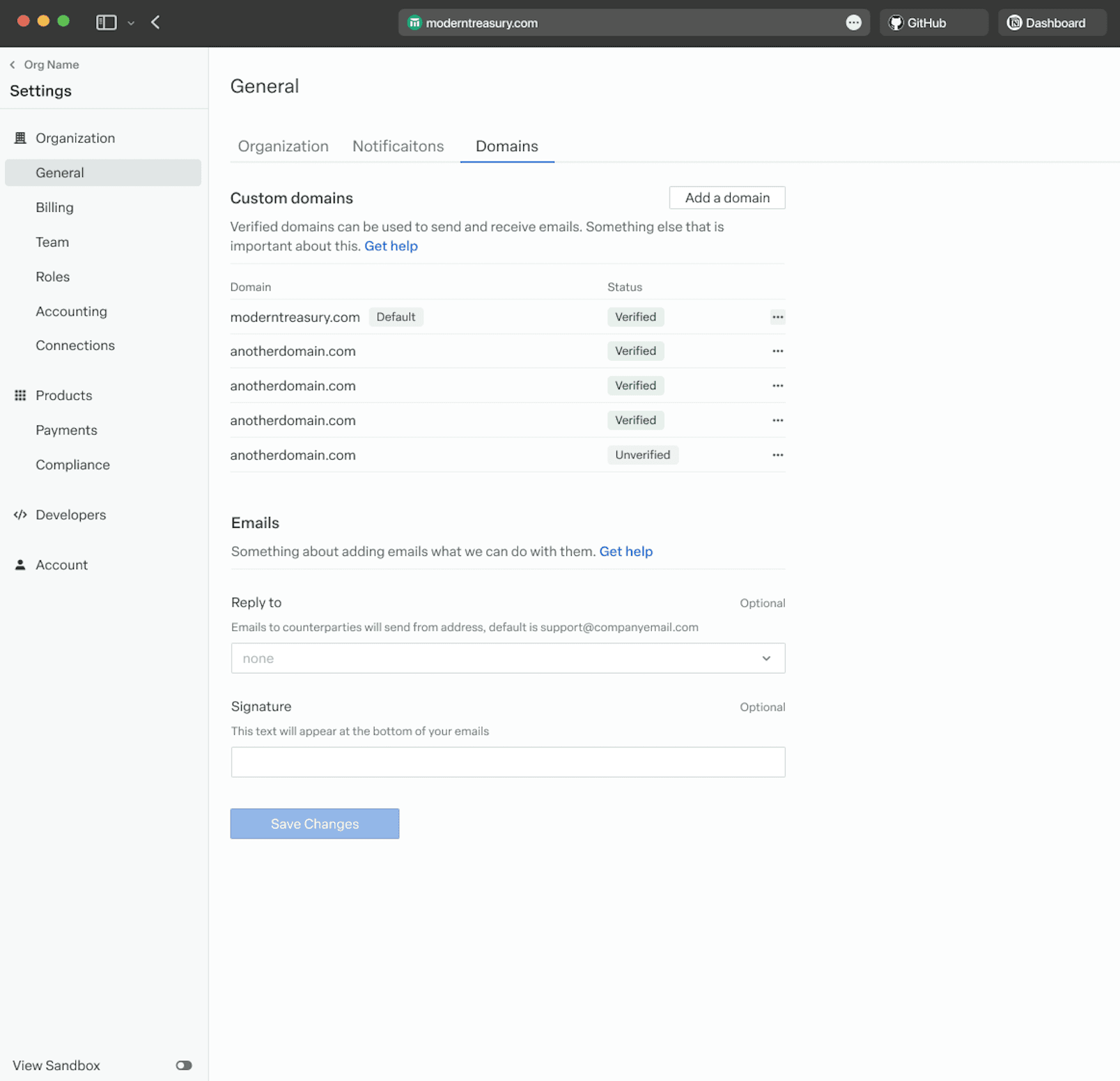 We've launched Custom Email Domains to allow users to add and verify your company's domain for Modern Treasury's counterparty onboarding and communication workflows. Modern Treasury will use your Custom Email Domains to collect counterparty banking details as well as send payment notifications with remittance information. This feature is designed to increase conversion by reducing concerns around fraud or phishing.
Sensitive Data & Personally Identifiable Information (PII) Protection (Early Access)
We've launched new tools to help you better secure your counterparties' personal information and other sensitive data. Modern Treasury now offers the ability to redact affected fields from API and webhook response bodies. We have introduced "safe" field views to allow you to store and present sensitive counterparty information without exposing sensitive information. All information will remain accessible to permissioned users in the Modern Treasury web app.
Invoicing (Early Access)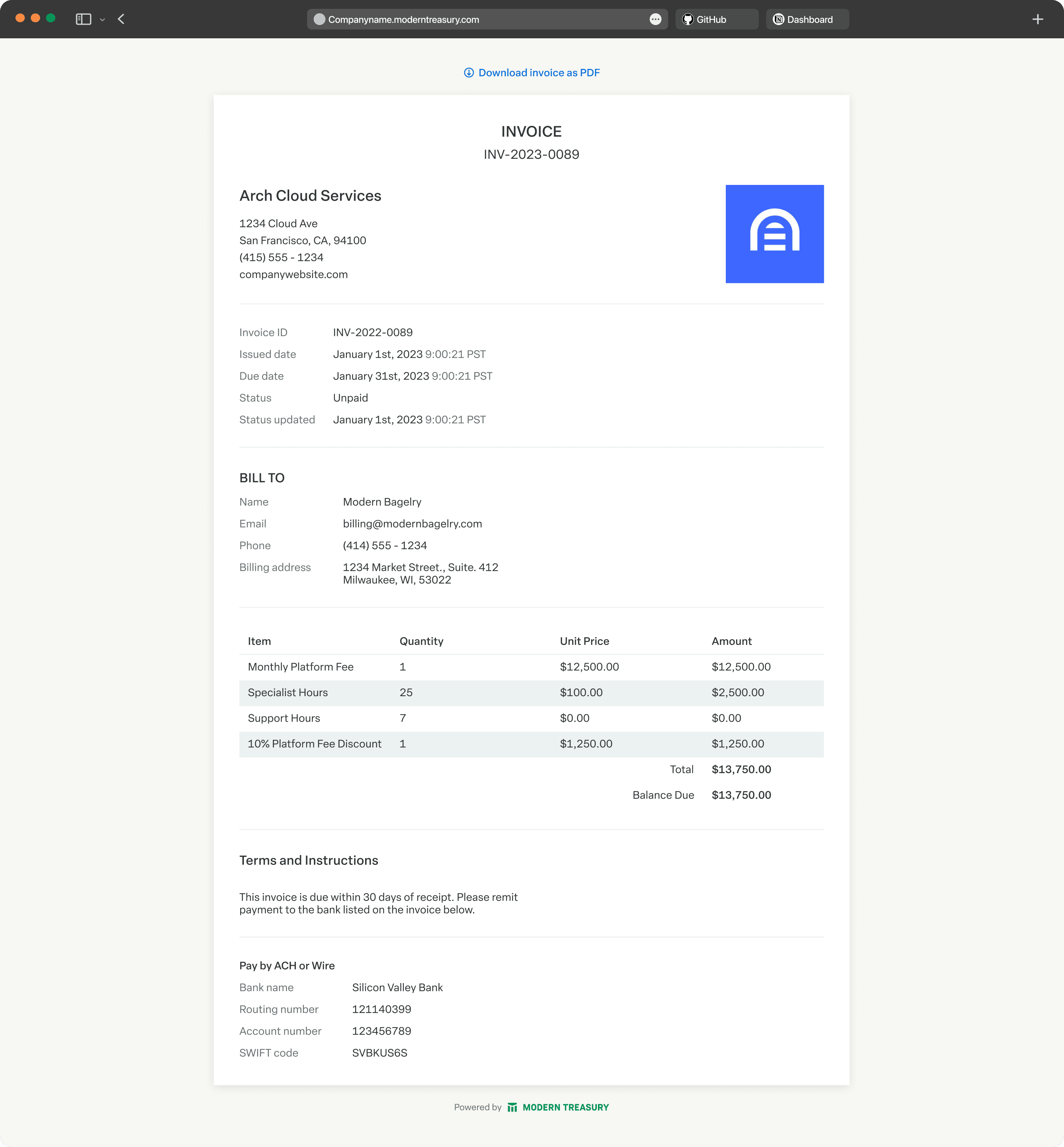 We're introducing a way to model and manage your invoices. Each invoice is accessible by you and your counterparty through a unique URL. Your customers will be able to pay these invoices directly on the page or receive the necessary information to originate a payment themselves.
Hosted Payment Links (Early Access)
We've released Hosted Payment Links to allow you to easily share a unique URL for your customers to make a payment. In the Modern Treasury web app, you can specify an amount and other basic information, and then receive a URL to share with your counterparty.
Embeddable Account Collection Form (Early Access)
It can be difficult to know what fields to collect and how to validate them based on the country, payment rail(s), or amount, among other things. With our new Embeddable Account Collection Form, you can easily embed a customizable form directly into your application. When setting up the form, you simply tell it the payment scenarios the collected account should support, and it will handle collecting and verifying the necessary information.
Next Steps
If you have any questions or feedback about any of these updates, or if you're interested in trying Modern Treasury's payment operations platform, get in touch.