Webinar
Modern Treasury, Parafin, and JP Morgan discuss the transformational potential of instant bank payments.Watch the webinar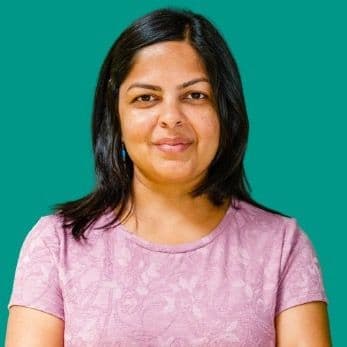 Shruthi Murthy
Engineering
My Background
I recently joined Modern Treasury as the Head of Engineering, and the first few weeks have been exhilarating. Prior to joining Modern Treasury, I was an early engineer at WhatsApp, and witnessed it grow, through many points of scale, to become one of the largest consumer apps in the world. WhatsApp's singular focus on the product was the primary reason for the massive organic growth through the years.
Most recently, I led the payments engineering team, and we built the product from the ground up. Building payments was similar in some ways to building messaging. We wanted to enable our users to send money in real time just as easily as they could send a message. However, complexities arise due to the differences in payment rails across countries.
Bank transfers and card payments vary largely in their implementations, availability, performance, and real-time guarantees. We had parallel teams working with several banks, card networks, and payment service providers to build the right APIs and user-facing features to be comparable to messaging. I believe my experience with building payments at WhatsApp indirectly led me to Modern Treasury.
The Draw to Modern Treasury's Product
In spite of the obstacles we faced due to variances in the payment rails, we built the components and experiences to consistently provide identity management, payment methods, transaction, risk, and customer support flows. It took us several years of intense efforts across several teams and timezones. Today, payments are live in India over the United Payments Interface (UPI) network, and in Brazil over instant card rails, with 3-4 bank partners in each.
I came to understand how critical payment operations are for consumers and businesses and the complexity in moving money. Before I joined Modern Treasury, I found myself constantly thinking that WhatsApp payments would have benefited greatly if a platform such as Modern Treasury existed—one that could provide standardized APIs to initiate payments with any bank in the world.
Beyond consumer payments, I had not given much thought to money movement between businesses at that time. I first met the Modern Treasury founders, Dimitri, Sam, and Matt, a few months ago and started understanding this space throughout many conversations with them. I also began reading and chatting with people in the payments industry as well as a few business owners. I realized that every business faces the same problems, and that no standardized payments API or platform exists today. For example, there are no standardized APIs to execute ACH payments directly via banks. ACH runs over a Secure File Transfer Protocol (SFTP) connection and payment instructions are sent to the bank through text files. There is no automatic way to handle errors or reconcile payments, and little support if things go wrong.
The magnitude of this issue is evident if you think about how every business in the world needs to move large amounts of money regardless of the market—think: lending, insurance, payroll, real estate, manufacturing, wholesale and retail marketplaces, gig economies and so forth. As of 2018, it's estimated that roughly $4T that is moved via card payments each year; compare that to the over $750T that is moved via the bank rails–that is, ACH [1] and wires [2]—every year in the US alone.
Many companies attempt to solve the problem by building large engineering and finance teams, and creating manual workflows to validate payments in-house. Still, these operations tend to be repetitive, tedious, manual, and error-prone. The more I thought about it, the more I was drawn to the solution that Modern Treasury provides, to automate and streamline payments. At its core, Modern Treasury is a platform for businesses to automatically initiate and manage payments. We provide consistent APIs and a web app for a business to initiate ACH, wires, RTP, and even checks to their vendors and customers with automatic reconciliation.
Leading the Engineering Team
When I joined to lead the engineering team, I was impressed by what this small company had accomplished, reconciling a mind-boggling $2B in transaction volume just in the month of June. I have led larger teams previously, but I really enjoy the impact one can have at this stage of the company, especially as we look to expand.
Though we are product-driven like many engineering teams, what sets us apart is the way we encourage everyone to build things correctly without unrealistic timeline expectations. The team runs efficiently with high throughput as is evidenced by the number of customer and bank integrations we already support. On the core engineering side, one gets to work on challenging data transfer and storage problems focusing on data modeling, access controls, propagation, concurrency, integrity, and security. Engineers also get to work directly with the founders which provides a rare opportunity to understand the founders' mindset—thinking from first principles and decision making.
Enjoying the Modern Treasury Experience
A few other things impressed me about the work environment here. The team does not just like to build things together, we also like to have fun together. We've done outdoor activities such as hiking, skiing, and rafting trips, and have also found ways to build our character and knowledge base during work. I particularly like the virtual coffee breaks we have almost every week, where we host various guests ranging from founders who talk about their experiences building products, to investors and operators who talk about their functions, progress, and dos and don'ts. These sessions have been fun and everyone in the team looks forward to participating [3]. Such activities help the team to genuinely get to know one another. Building things with people you really know goes a long way in building a great product.
Where do we see ourselves going from here? Modern Treasury wants to continue to enable businesses to move money confidently by providing financial transparency, and of course, continue to reconcile a growing fraction of the money flowing through banking rails all over the world. If you are interested in joining us and being a part of this growth, we're hiring; learn more about the roles at .