Webinar
Watch Goldman Sachs, Nacha, and Modern Treasury discuss the future of embedded payments.Watch the webinar.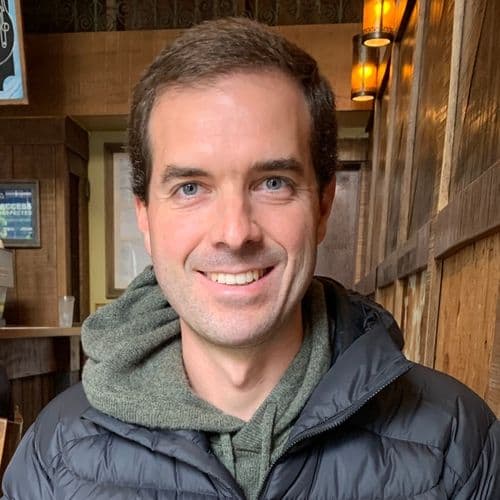 Introduction
Moving funds is a critical part of the product experience in many industries such has healthcare, real estate, financial services, and marketplaces. In the beginning, many companies do this by hand using their bank portal or an invoicing system. However at scale, it becomes essential to automate money movement, from payment initiation, to approvals, to reconciliation and accounting.
Even when systems are humming at scale, sometimes things don't go according to plan. When that happens, providing a delightful customer service experience is a key competitive advantage. This is where two goals can sometimes come in conflict: responding to customer requests as fast as possible, and managing the financial controls around payments. So we've built tools for a customer support team to get access to the information they need while creating flexible controls to ensure a business is safe and protected.
In this post I'll explain a couple of common ways that our customers use Modern Treasury to service payment related questions and requests. For a common customer request, this post will cover the following:
How to set up a support team's permissions
How to set approval rules for the finance team
How the support team can find the information they need and respond to customer requests
Use Case: Has my payment succeeded? If not, why not?
In this scenario, let's imagine we have a customer Bobbie asking their lender AutoLoan, Inc. whether their latest loan payment was received. Let's imagine AutoLoan uses Modern Treasury, and follows our How to Build a Lender payment ops architecture.
Step 1: Set up the Support Team
We'll start by creating a role for our support team and then assign all our support team members to that role.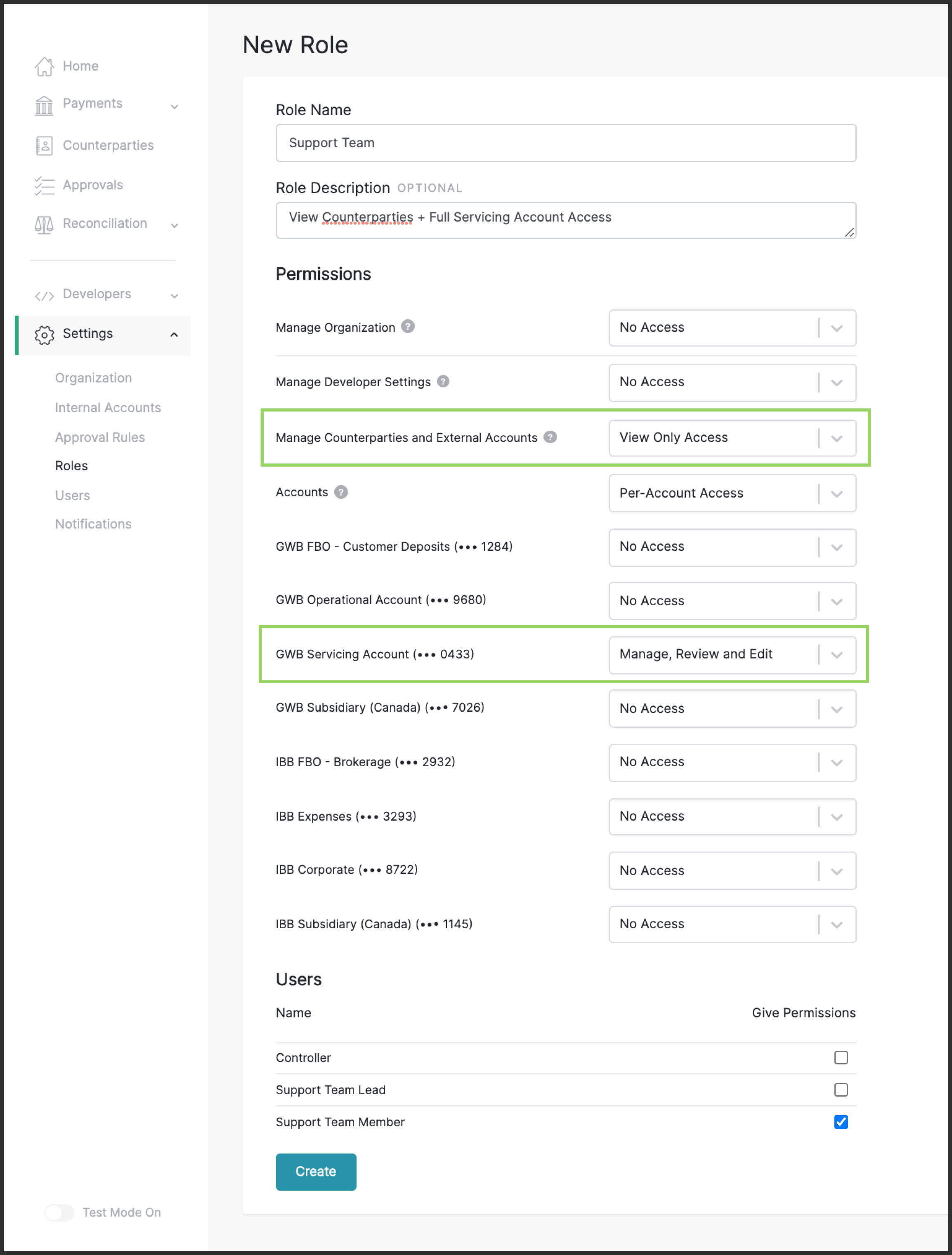 The support team role has the following Permissions:
View Only access to Counterparties and External Accounts. External accounts are accounts owned by users, customers, or vendors, which you can debit funds from or push funds to. In this scenario Bobbie's account is an External Account, and members of the support team can see details but not add or edit any banking information.
Manage, Review and Edit Access limited only to AutoLoan's Servicing Account. This means when support team members login to Modern Treasury, they won't see any information related to any other corporate bank accounts.
This will enable our support team to view, initiate, and cancel Payment Orders originated from that particular account to AutoLoan's Customers.[1]
Step 2: Set up Approval Rules
Let's imagine the Controller on AutoLoan's finance team wants to put some rules in place to ensure that any payment initiated by the support team requires approval by a member of the finance team prior to being released.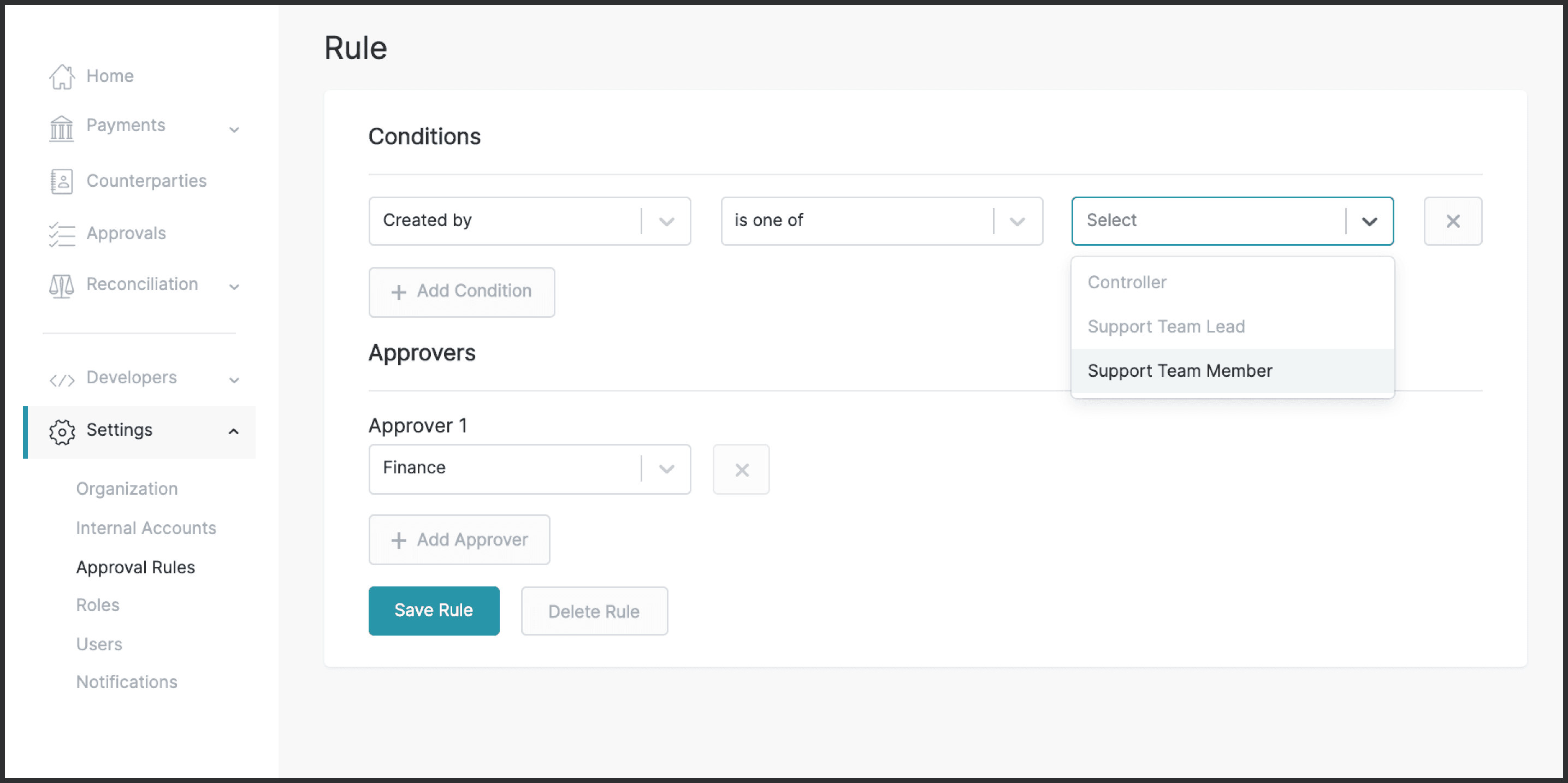 In this case, the Controller will create a custom approval rule such that all payments created by a support team member will get queued for approval by a user in the finance team prior to being sent to the bank for processing. [2]
Step 3: Responding to Customer's Inquiry
Understanding the State of the Payment
In this scenario a member of the support team will go to Payment Orders and search for payments associated with the Customer's Loan. In this case the loan was tagged [3] with Loan ID "L_248" so we'll search for that: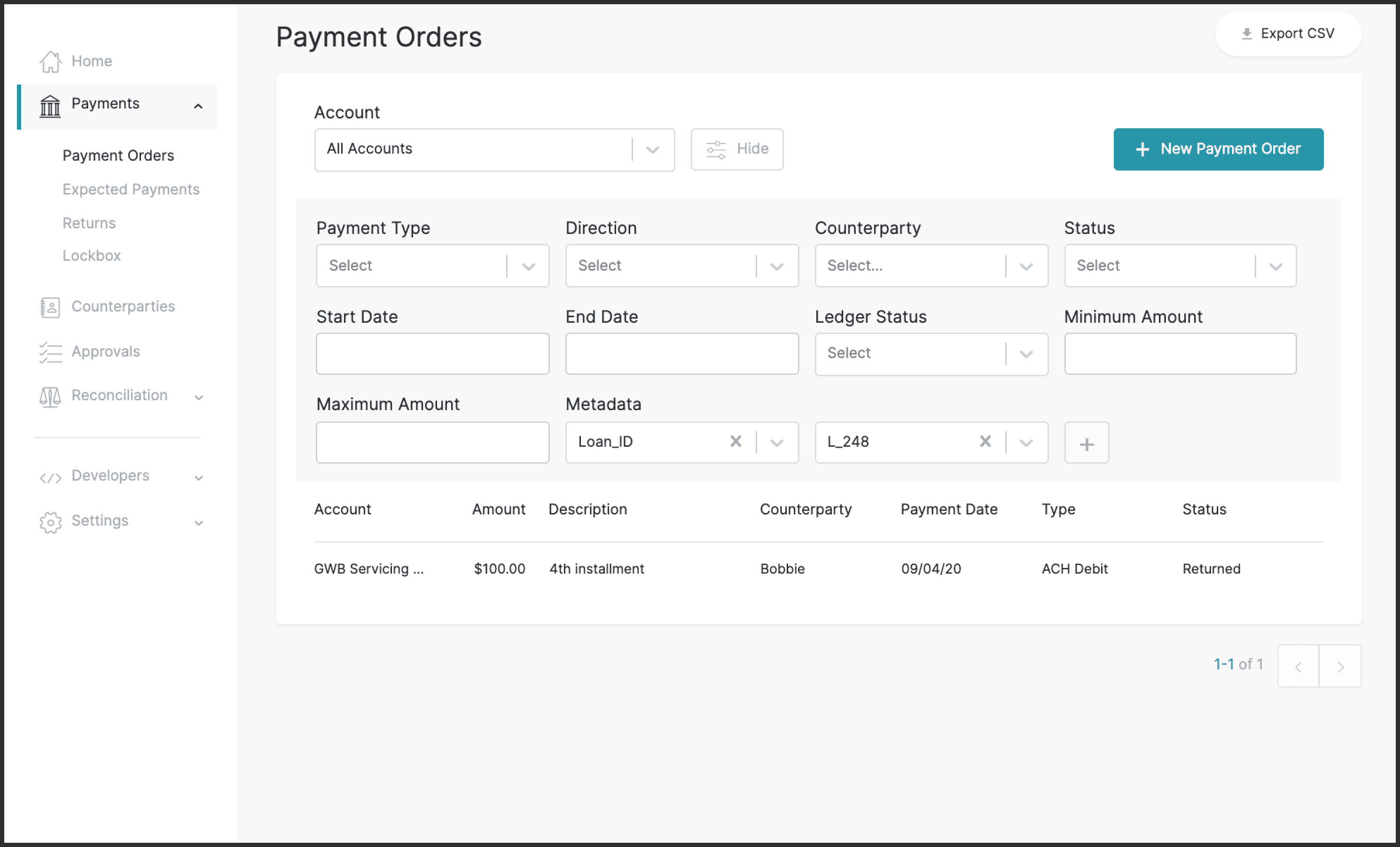 The Payment Status is "Returned", so we'll look into the payment order to understand why it was returned. The Returns tab will show the specific return code for any failure. In this case, the payment was unsuccessful due to non sufficient funds (NSF).[4]

At this point, the Customer Support team can respond, "Bobbie, we've identified the issue and it appears that when we charged you $100 on 9/3/2020 the payment was returned due to insufficient funds. Do we have your permission to draft you again, and on what date?"
Retrying the payment
After Bobbie learns that his payment failed, they ask the support team to retry as the account now has sufficient funds available to cover the charge.

Responding to Customer's Inquiry
There are two alternatives to initiate the new debit in this case: Either initiate a brand new Payment Order to Bobbie, or alternatively to "Redraft" the Payment Order - which is a shortcut to retry the original Payment Order.
When a new Payment Order is created, a member of the finance team will get a request to approve the order as can be seen below:

At this point, the Customer Support team can respond, "Bobbie, we've initiated a new payment which will be debited from your bank account on your chosen date. That payment will go towards your loan installment after the debit succeeds."
Looking for more?
There are several other customer service requests which can be easily handled through Modern Treasury, from updating a customer's bank account details to cancelling scheduled payments. With Modern Treasury your support team gets the tools to serve your customer while your finance team gets the controls to keep your business safe. If you are interested in learning more about how you can work with Modern Treasury, please reach out.
If curious, you can learn more about Roles and Permissions here.

If curious, you can learn more about how to manage approval workflows here.

All Modern Treasury objects support Metadata, enabling you to enrich payments with information that helps your business with reporting and reconciliation, and enables your team to understand the context of the payment when they look at it in the future.