Webinar
Watch Goldman Sachs, Nacha, and Modern Treasury discuss the future of embedded payments.Watch the webinar.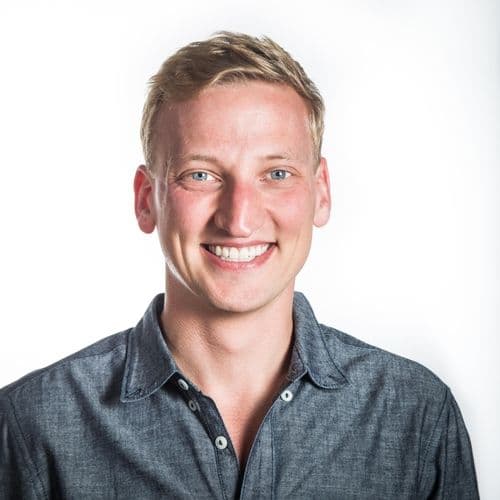 Yesterday, we announced self-serve sign up, an easy and secure way to start moving money within minutes. Easy, scalable payment operations should be available to every business. We believe the best companies, products, and innovations come when basic things such as money movement are available and affordable for all to use.
Go Live
For our customers, it's all about the "Go Live" moment, which we defined as: "The point at which a customer's payment experience is built and operating in Modern Treasury's production environment."
This definition implies the following:
The customer has designed, built, and validated their product in a test environment.
The customer has direct transmission enabled on their bank account
The customer has completed the integration with the bank.
These three processes can be run in parallel, but they must all be completed for the customer to go live.
Modern Treasury started with a hands-on approach, manually guiding each customer through the bank integration process. Having worked with many customers across many banks, we learned that manual onboarding onto a sandbox and waiting 2-3 weeks for bank approval was a hindrance.
We decided that we would do everything we could to make onboarding as instant as possible.
Our Personas
There are three personas we singled out, interviewed, studied, and for whom we ultimately developed our onboarding experience.
The Sandbox Customer
Sandbox customers are those who want to play around without any commitment. They need easy access to a test environment that matches production so they can start dreaming, designing, and developing. When the time comes to integrate a bank, they want to golive with the click of a button.
The Growing Customer
Growing customers are startups, medium-sized companies, and product teams inside large enterprises who want to move quickly. These customers want to use Modern Treasury without waiting to speak to our team. They have bigger teams and corporate bank accounts already. They need tools to build their product and operations flows while simultaneously going through the implementation process for direct transmission.
The Enterprise Customer
Enterprise customers have complex needs and often require custom configuration and design help. We realize that with these requirements, some manual work may be required, so at numerous points in onboarding we offer the ability to opt into our original hands-on experience.
Goals
Given our personas, we set the following goals for self-serve:
Enable customers to start building without the need to talk to sales.
Allow teams to get started even if they do not yet have a banking relationship.
Allow customers to connect an existing bank account.
Offer a way to move money if you don't yet have a corporate bank account.
Provide a singular and consistent onboarding experience for all customer types across products and partners.
Design Considerations
When researching and designing our experience, we discovered some key insights that influenced how we thought about the problem:
One limiting factor in onboarding is an external dependency on the bank's timelines. Some banks are fast while others can be painfully slow. Yet while each bank can be different, their process includes the same fundamental steps: decide whether the company qualifies for an account, underwrite the business model, enable direct transmission, and confirm an integration.
When we've integrated with a bank once, the "go live" time decreases over time. We leverage our previous experience to expedite our customers through bank decision making.
Banks are regulated and must adhere to very strict practices to prevent risk exposure, fraud, money laundering, etc. While Modern Treasury is not a bank, our service interfaces with your bank, so we need to hold our product and services to the same (even higher, where possible) security standards and best practices.
We want to enable banks to more easily perform their due diligence in a structured, scalable way.
Banks rarely offer sandbox environments for customers to develop against. Most are forced to test integrations against their real bank accounts, making errors much higher risk.
Design Principles
We used three key design principles in building our sign up experience:
Minimize time to value.
A key goal for our team is to reduce the steps our customers must take to first experience the value of Modern Treasury. Where possible, we want to cut out redundancy. For example, if a user is trying to open accounts at multiple banks, they should only put in details once. We also need to account for and minimize the time it takes to connect their bank.
Funnel conversion is not just about revenue, it's about enablement.
While we want customers to pay us, we want them to do so once they know exactly what they're purchasing, and do so without reservation. Users should be able to get to a sandbox without a credit card. Try us out, and if it does not work for you, you don't pay.
Build empirically.
Our onboarding experience design is just the beginning, not a one-and-done launch. From initial assumptions, to customer interviews, to prototype validations, we know that the experience will evolve. We strived to get a thoughtful product out in the world as quickly as possible so we can start to improve. This iteration will be driven by the data we collect in how people interact with our UIs.
The Result: Five Steps
1. Registration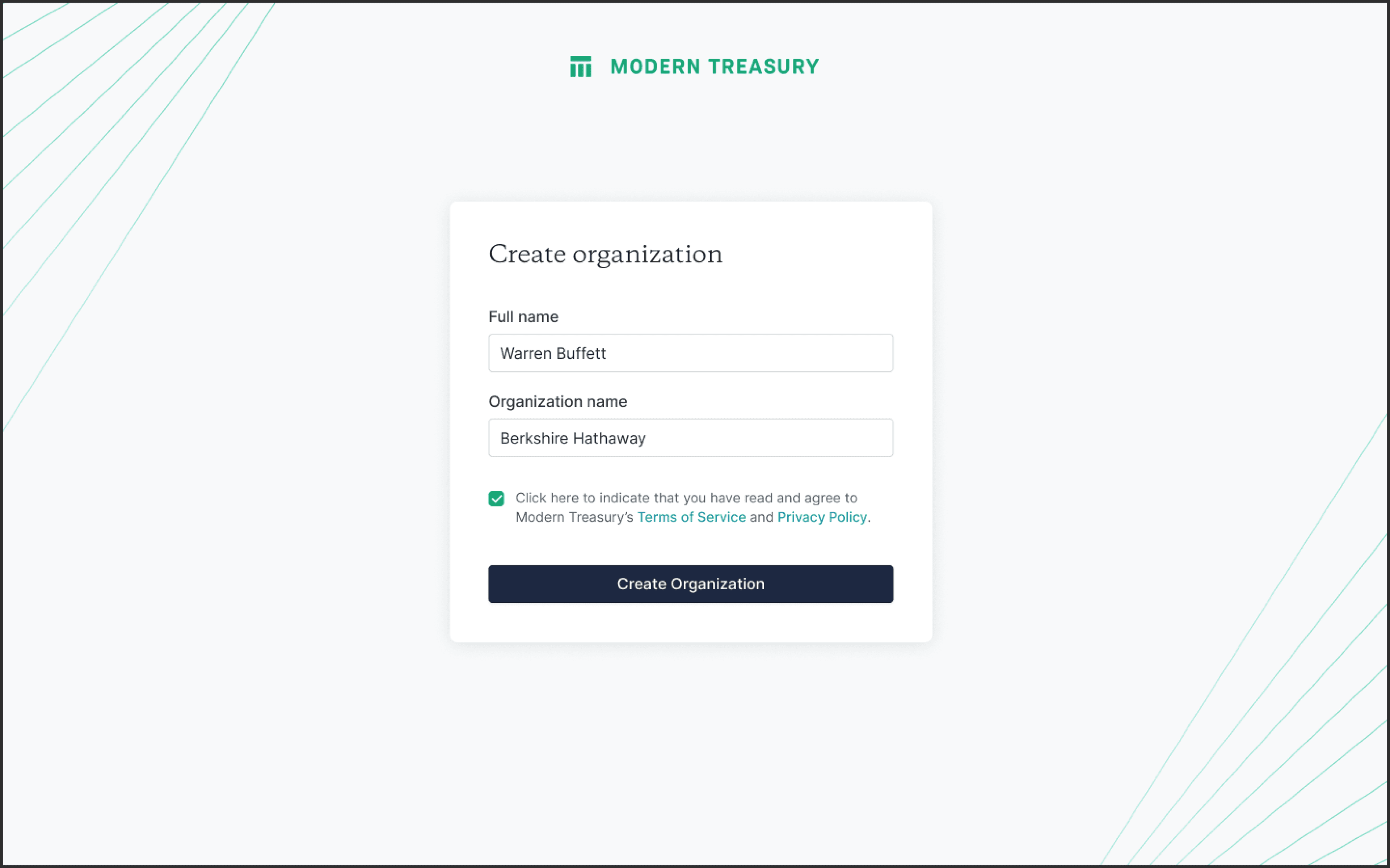 Our new onboarding consists of convenient registration, using your email or other SSO login methods.
‍2. Instant vs. Traditional
The first decision a user will make is which type of bank they wish to use. They can choose to use one of our Instant Bank partners or connect their existing corporate bank(s), in which case they'll pursue a streamlined version of our traditional onboarding.
3. Data Collection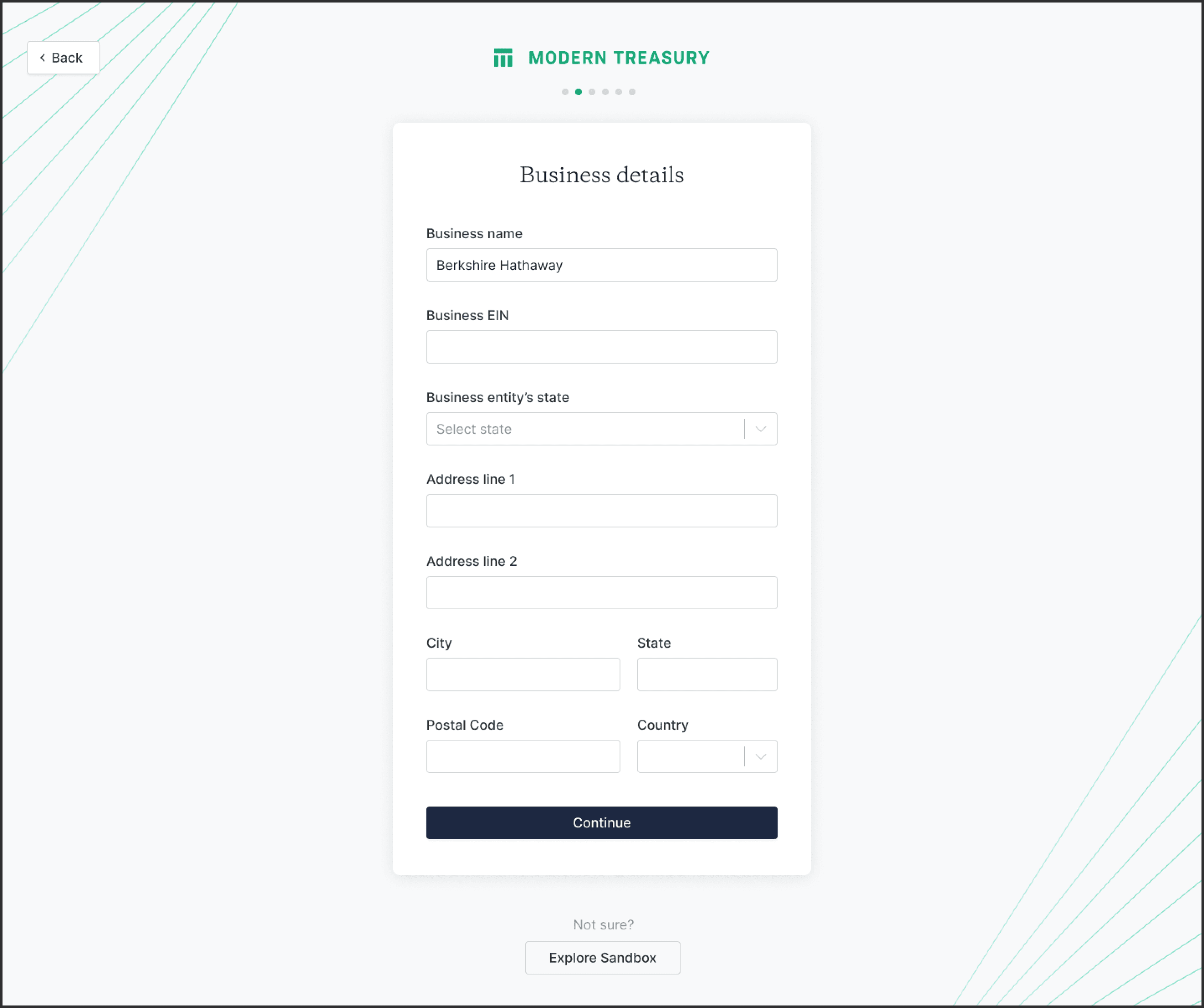 Modern Treasury collects structured information on the customer's business in a single experience. This information is later used to automatically submit your application to our partner banks. This data can be reused to submit another application, add an account, or add an additional integration in the future.
4. Connect Your Bank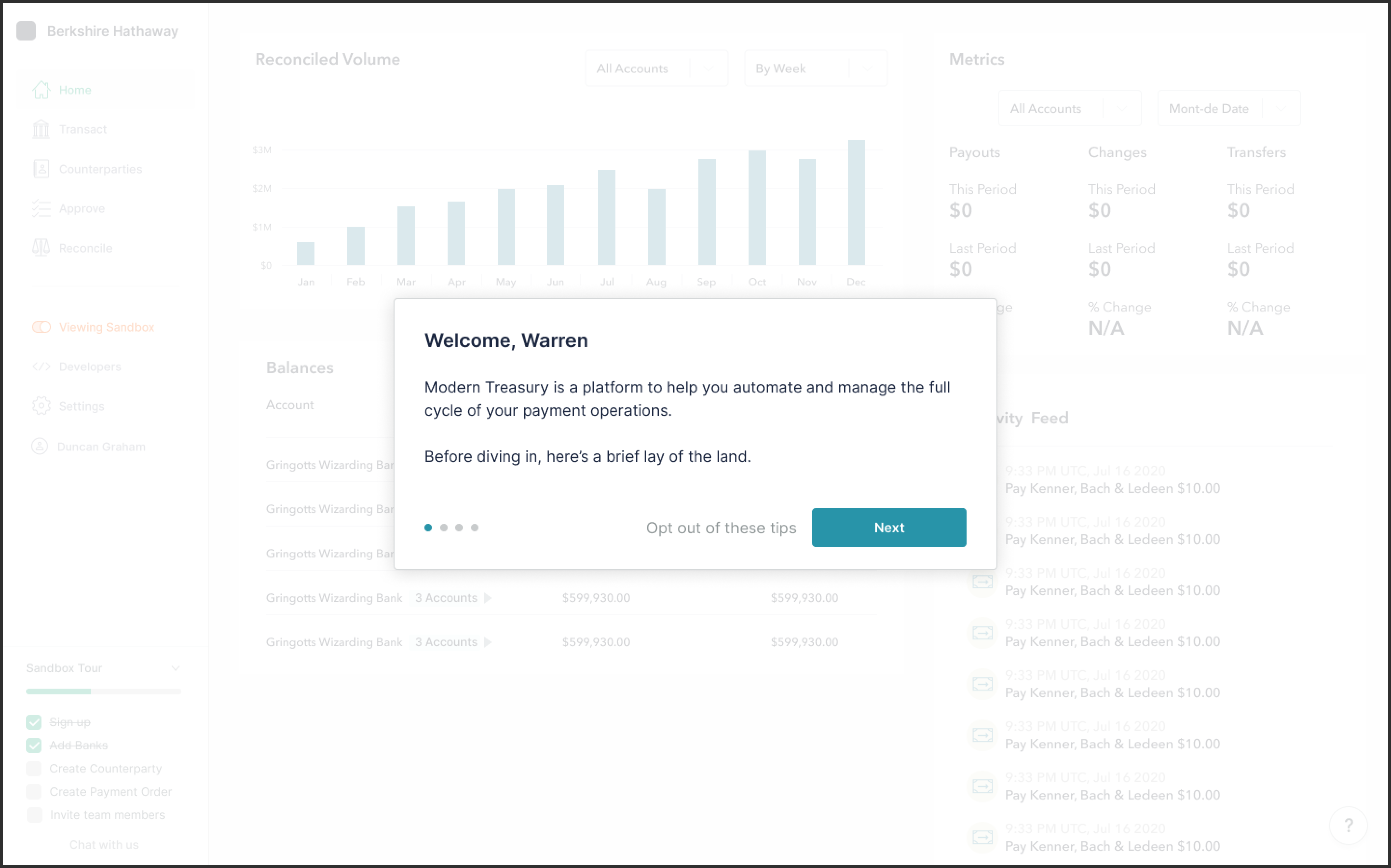 Select one of our Instant Partner banks to have Modern Treasury automatically submit an application. Our partners will make a decision immediately, making it possible for a customer to go live and move real money in minutes.‍
5. Move Money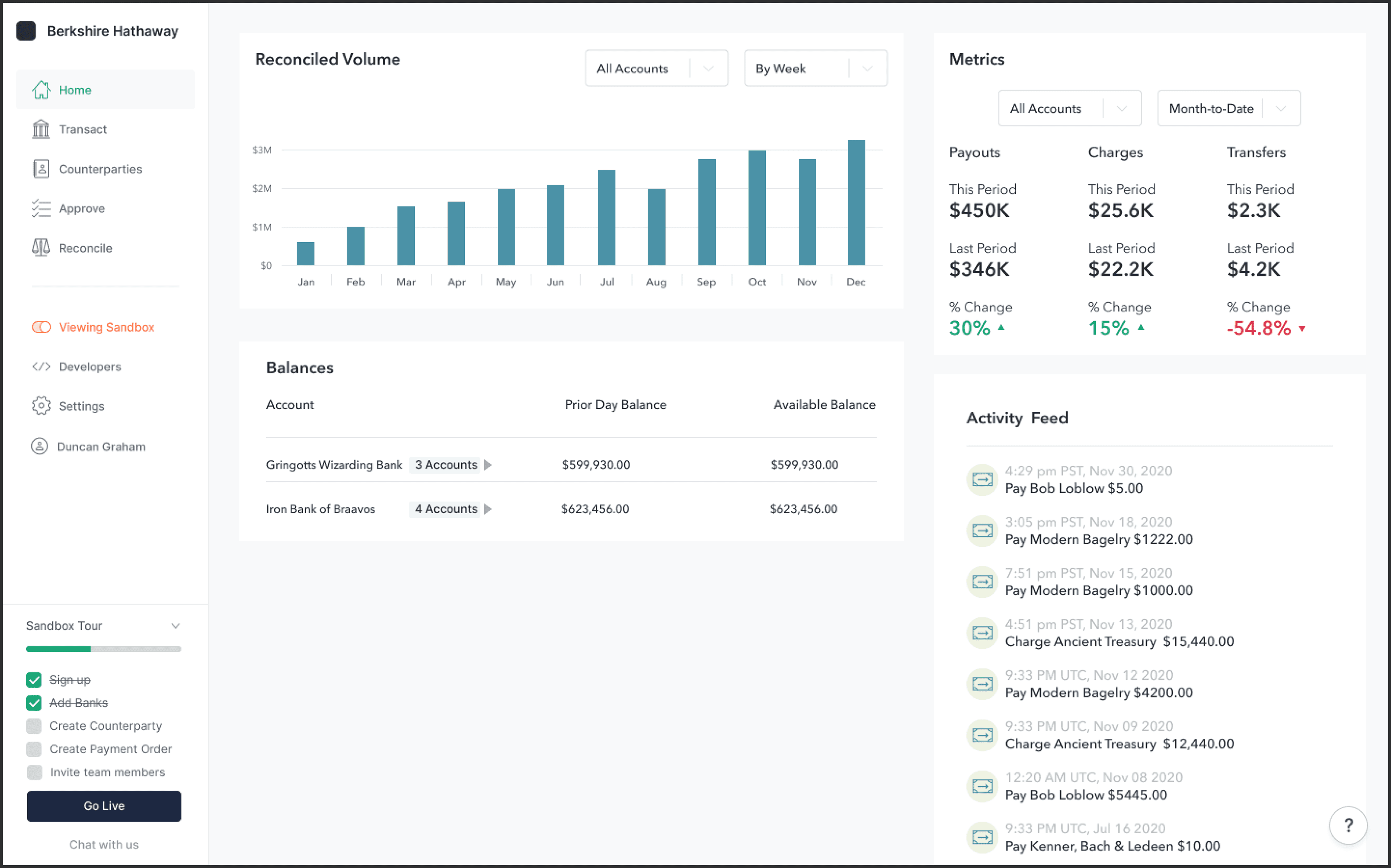 With a bank connected, a customer can instantly start moving money. The experience starts in a sandbox, where a user explores with a product tour.
Now You Try
In five simple steps, customers can start using Modern Treasury in minutes. This onboarding is a vast improvement from the weeks to months most expect when integrating with a bank. We also know this experience is just the start. We have so much more planned, and we cannot wait to get your feedback.
Now that we've taken the waiting out of bank setup, why wait any longer to move money? Sign up and try it out. Let us know how it goes.