Webinar
Modern Treasury, Parafin, and JP Morgan discuss the transformational potential of instant bank payments.Watch the webinar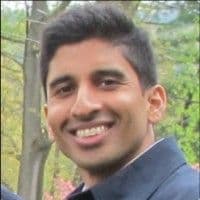 Preet Narisetty
Customer Success
My Story
Both my parents grew up in rural parts of South India with limited access to technology. Through a combination of education, perseverance, and fortune, they settled in New Delhi, which is where my sister and I were raised in the 1980s and '90s. They prioritized our education and introduced us to the world of technology. As a result, I developed a passion for it at a young age. The timing coincided with India opening its doors to the global economy in 1991 under reforms introduced by Finance Minister Manmohan Singh. The reforms led to economic growth and a significant reduction in poverty rates.
In 2000, my parents made the difficult decision to disrupt their own careers and emigrate to Canada. They wanted greater educational and professional opportunities for my sister and me. After earning an electrical engineering degree, I joined IBM's Software Lab in Toronto in the mid-2000s. I always knew I wanted to work with customers and nurture relationships. So, I moved to New York City in March 2008 to start my customer success career. I joined SS&C Éze, a global provider of investment management software solutions. We all know the economic events that unfolded that year.
As jarring as that period was, SS&C Éze withstood the global economic collapse and thrived by delivering exceptional customer service and value. I credit my experience at SS&C Éze for instilling in me the foundational principles of customer success that I use in my career today. After a nine-year stint there, I held leadership roles at Salesforce and tech startups including Datorama and HiredScore. In late 2021 I was introduced to Modern Treasury.
‍
Introduction to Modern Treasury
Modern Treasury provides payment operations software for companies. It transforms the way teams move and track money so that they can create high-growth businesses built upon financial transparency. There are many aspects of Modern Treasury that are impressive—its problem statement, elegant solution, product-market fit, and growth trajectory. I encourage you to read about them in this Journal post by my colleague and Head of Engineering, Shruthi Murthy. These impressive qualities of Modern Treasury no doubt attracted me to the company. However, my decision to join Modern Treasury was rooted in something deeper.
‍
Reasons for Joining Modern Treasury
Over the course of my career, I've identified three qualities I look for in a company that truly inspire me, and I am grateful to have found them at Modern Treasury:
Impact - Modern Treasury aims to enable every business to move money with confidence. Customers are using our products to reinvent the way they build, run, and scale businesses in the economy's most important sectors, from financial services and education to healthcare and real estate. This vision gives my colleagues and me the chance to impact every company in every industry. Think about how unique that is.
Values - Modern Treasury strives to become one of the best companies in the world by:
Helping customers build their own best companies. Everyone at Modern Treasury is obsessed with delivering exceptional value and experience to customers. My peers in Product and Engineering strive to build products right the first time. When issues arise, they commit to resolving them. As a customer success leader, I cannot ask for more.
‍
Creating the conditions for personal and professional growth. At Modern Treasury, workers can voice their ideas and gain inspiration to do meaningful work. I believe these conditions are necessary for pursuing long-term personal and professional goals.
‍
Making decisions for longevity. Modern Treasury is focused on decency, dignity, and taking a long-lens view of building the company. After all, that is the only way we can continue helping our customers build their own best companies.
In addition to maximizing my impact and doing so with a strong foundation of values, the third and most inspiring quality about Modern Treasury is the opportunity to grow as a leader.
Leadership - At Modern Treasury, I am realizing my leadership vision. I feel inspired by the company's culture and values to lead and champion an environment where we all trust, help, and look after one another. In doing so, I can contribute to creating a world-class company and a world-class Customer Success team that can be a platform of growth and fulfillment for all.
‍
My Commitment
It is a privilege to join Modern Treasury and lead its Customer Success team. As our customers' businesses evolve and their needs change, we will continue to listen to and serve them while staying true to our core values. By keeping this commitment, we will create opportunities for our team members to achieve long-term growth and fulfillment.
The Modern Treasury team welcomes hearing from you. If you're interested in joining the team, learn more at moderntreasury.com/careers.