Request-for-Payment (RFP) is essentially a messaging system paired with an instant payment. Using RFP, businesses can send bills and invoices directly to customers via mobile banking app. Once received, customers can also use the RFP to make payment for the invoice and share any relevant corresponding remittance information with the business. Currently, the ACH Network and the RTP Network both offer RFP. Upon its launch, FedNow will also offer an RFP option.
Using RFP, a business can send a bill directly to a customer using that customer's mobile banking app. The customer can then approve and send the payment from their banking app in a single step.
RFPs can provide benefits for businesses, consumers, and financial institutions including:
Allowing businesses to streamline their payment operations and increase customer satisfaction with quick, easy, and straightforward payments via RFP.
Giving consumers higher visibility and control over their cash flow.
Improving the overall payment experience for customers on both sides of a financial institution.
As an instant payment option, RFPs are very data rich. Though all instant payments include some form of data about a transaction—like account numbers and routing numbers—RFPs offer multiple ways to embed information about a bill or invoice within the transaction itself. These more detailed data points are helpful in creating a reliable record of the transaction for both identification to the recipient and reconciliation.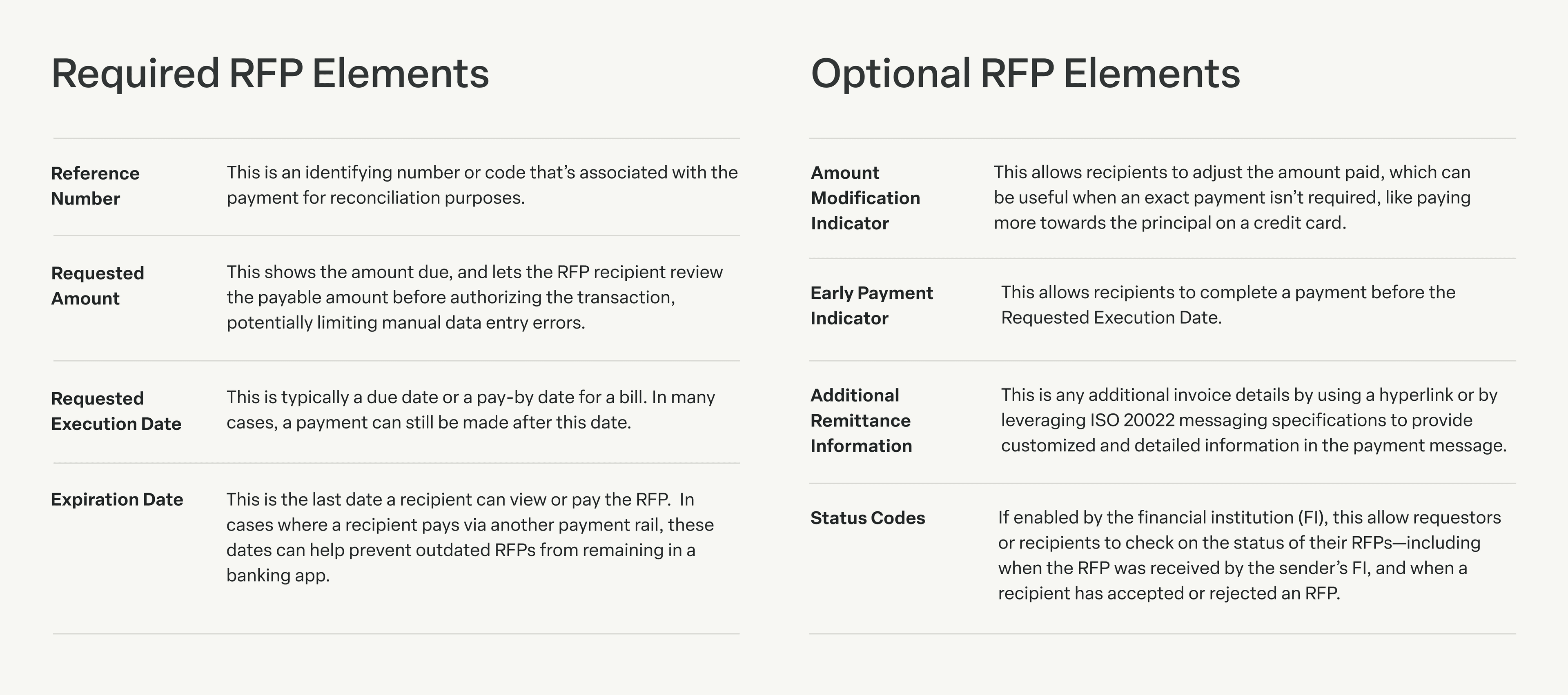 Required vs. Optional RFP Elements
How does a Request for Payment (RFP) work?
Let's look at one example of an RFP in action. Imagine that you run a coffee bean wholesaling business, called Coffee Beans For All. Let's say you have a customer, Sandra, who regularly uses your service to buy beans for the coffee shop that she owns.
Each month when Sandra's coffee bean order is ready, you create an RFP that includes identifying banking details for your company and for Sandra, the amount of her bill, and the requested payment date. Your bank will send the RFP to Sandra's bank. She will then receive a notification (push, text, email, or all three) that her bill is due. She can then sign on to her mobile banking app, review the details of the RFP, and pay the bill right away or schedule it to be paid at a later date.
This is just one example of how RFPs could be used by a business. RFPs can also be used for wallet funding, e-commerce, person-to-person (P2P) payments, and point-of-sale payments.
ACH
ACH (Automated Clearing House) is a payment processing network that's used to send money electronically between banks in the United States.
Subscribe to Journal updates
Discover product features and get primers on the payments industry.
Subscribe

→
---
---