A prenote or prenotification is a zero dollar payment to validate the account and routing details of a bank account before debiting or crediting it.
To understand how a prenote works, let's take an example where prenotes could be used frequently. When you're setting up a way to pay your utility bill automatically, the utility company could use a prenote to validate your account before debiting it every month. They'll send an ACH prenote to validate your bank account before processing your first automatic payment.
Prenotes are an alternative way to verify bank account information instead of using micro-deposit based verification or account data aggregators like Plaid. The advantage of using prenote account verifications is they don't require your counterparty to take any action to verify their account. They also don't require that counterparty to share sensitive information like their username and password for their bank account. The downside is that prenote account verifications take about 3 days to complete.
How do prenotes work?
Prenotes are essentially test transactions that you can make without using real funds.
To send a prenote, all you need to do is make a $0 ACH credit to the counterparty's bank account. The prenote is considered successful if you don't receive an ACH Return or Notification of Change related to it from the counterparty's bank. If the prenote is not successful, you'll need to use the information in the return code or NOC code to update the bank account details before sending another prenote. 
Prenote vs direct deposit
Direct deposit is a payment method where funds are transferred right into the recipient's bank account of choice. The relationship between direct deposits and a prenote is simple; the prenote (or pre-notification) is used to verify the recipient's bank account. Once the prenote account verification is complete and deemed successful, the recipient's bank account is approved for direct deposit and funds can be deposited and accessed.
How long is a prenote period?
The typical timeline for an ACH prenote is outlined below. So, for example, if you initiate a prenote on a Monday before your bank's ACH cut-off time, you can start making payments on Thursday provided the prenote did not result in an ACH Return or Notification of Change.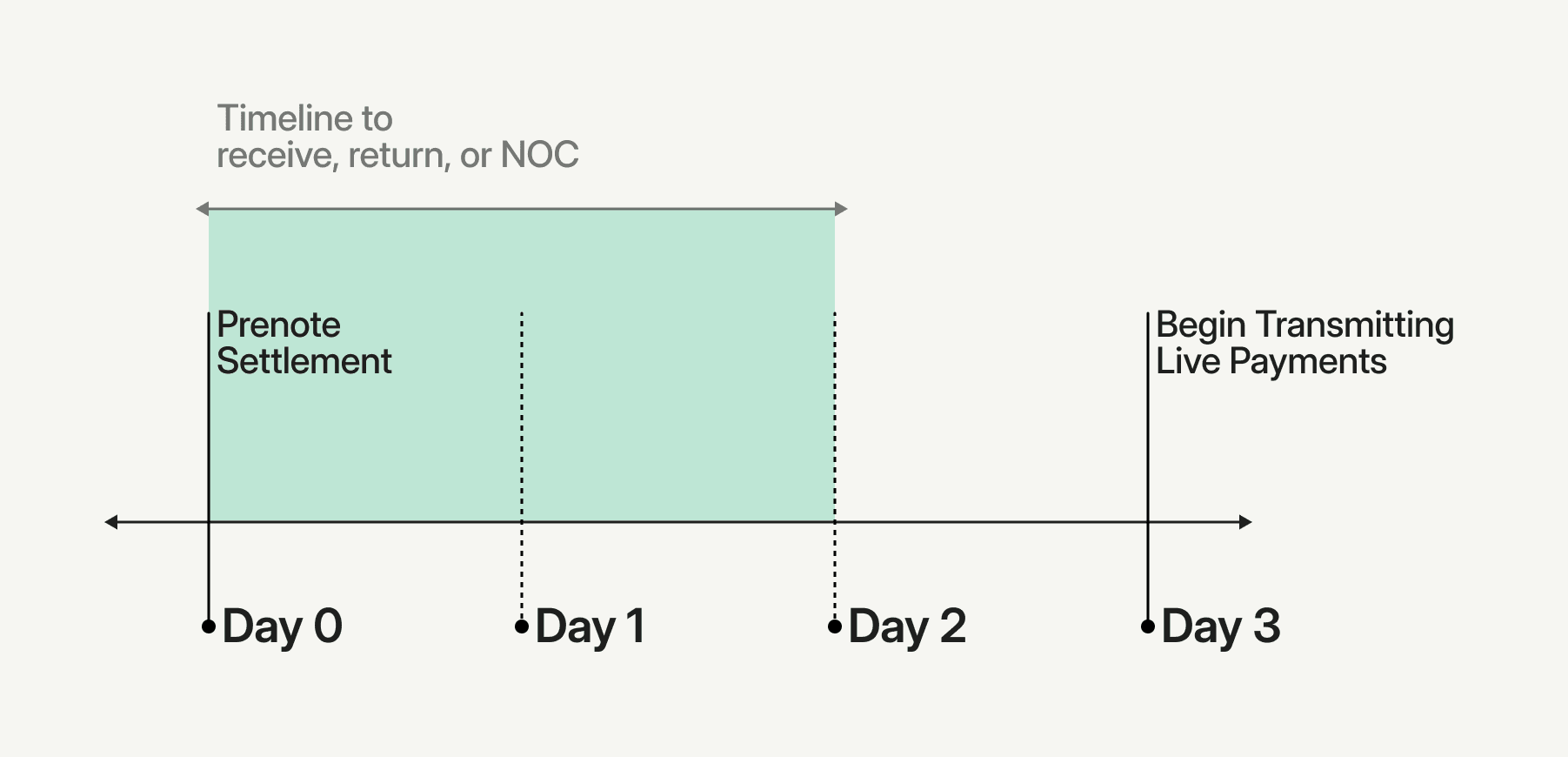 Do other payment methods support prenotes?
Today, prenotes are specific to ACH. Other payment methods like wire transfers and RTP rely on alternative methods for validating account information. 
Modern Treasury customers can use the Routing Number API to validate routing information. It supports validating information for multiple payment methods like ACH, Wire Transfer, RTP and SEPA to name a few.
To learn more about bank account verification, take a look at these articles:
ACH
ACH (Automated Clearing House) is a payment processing network that's used to send money electronically between banks in the United States.
Subscribe to Journal updates
Discover product features and get primers on the payments industry.
Subscribe

→
---
---